Kawaii dress-up stickers are puffy stickers that work just like paper dolls. Each sheet features at least one doll sticker for you to dress up and an array of outfits and accessories to choose from. They are a lot of fun for little girls to play with but they also make fantastic dimensional embellishments for your paper crafting projects!
Click Here To View Our Full Range Of Kamio Kawaii Stickers
This week, I wanted to share with you two birthday cards I made from a single sheet of kawaii dress-up stickers: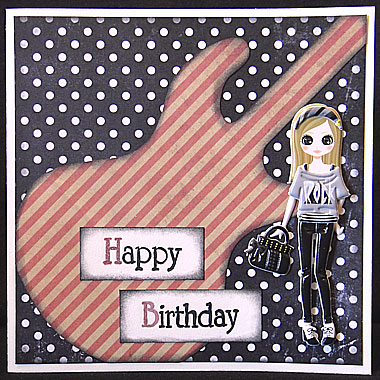 I designed the first card with my teenage niece in mind. It features the doll sticker itself. I have dressed her up in stylish 'rock' clothing to given her a young, modern look that would appeal to any teenage girl and accessorised her with a fun headband and a sleek black handbag. I then have placed her against a sophisticated black and red backdrop featuring the outline of a guitar. Just the thing that would appeal to a young adult!
One of the great things about these kawaii dress-up stickers is that you get to choose how you dress them so you can add a touch of your own personal style.
Layering the clothes and accessories on top of the doll also gives your card texture and dimension so that it really stands out: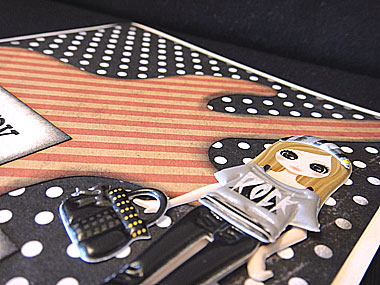 Of course, you can't fit all of the clothes and accessories on the doll all at once, you will inevitably have some left over. You can still put them to great use though and create your own fashion themed birthday cards like this one: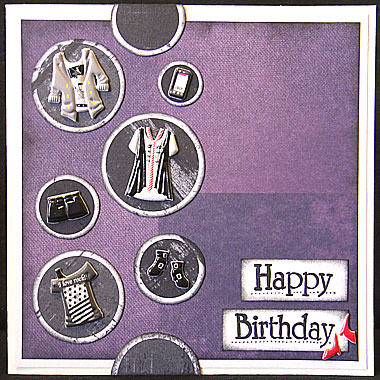 For this card, I used a selection of leftover tops, shoes and accessories. I arranged a selection of circles down the left side of the card and embellished them with my stickers. I then added a 'Happy Birthday' message and accented it with a pair of red shoes to give my design a bit of pop.
And once again, I have created a birthday card that would be suitable for a teenage girl or anyone who just likes fashion.
Click Here To View Our Full Range Of Kamio Kawaii Stickers
I'd love to hear what you think of our new dress-up kawaii stickers. Please leave a comment in the comments box below.