Valentine's Day is just around the corner and romance is in the air. To celebrate, I thought I would create a unique Valentine's Day card for you.
This card was based on Sketch #28 from my collection of 50 Card Making Sketches.
Click Here To Get Your 50 Card Making Sketches Now
The beauty of this card is that it is so simple to make and yet looks quite sophisticated. It can also be adapted to suit any colour palette and collection of patterns.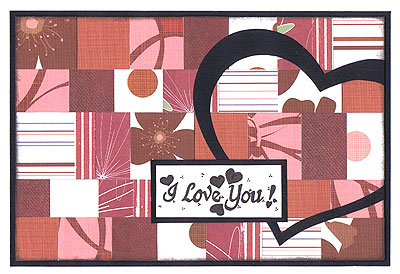 Materials Used: Black cardstock, white cardstock, scraps of red and white patterned papers, an 'I Love You' stamp and black ink.
The key to this card is in the background. Instead of using a single patterned paper, I created a mosaic from scraps of red and white papers I had left over from other projects. You can arrange them in any way you like, but I created five distinct strips for what I think is the best visual impact.
To further enhance the effect and make my card design more striking, I matted my mosaic with black cardstock before placing it against the white background of my card.
I then created my heart outline with black cardstock and positioned it on the right side of my card. I used at outline instead of a solid shape as I wanted my background to show through. I also think it adds a touch of class to my design.
Finally, I finished off my adding the 'I Love You' sentiment. I made mine with a stamp and black ink, but you can use whatever you like – stamps, stickers, rub-ons, etc.
I hope this card design has given you some ideas for making Valentine's Day cards of your own. Don't forget, this card was based on just one of 50 different ideas in my 50 Card Making Sketches book. It's a great companion for all of you who love to make cards, no matter what level you are at.
Click Here To Get Your 50 Card Making Sketches Now
I'd love to hear what you think of my Valentine's Day Card Idea. Please leave a comment in the comments box below.