Alphabet letters are a fundamental part of scrapbooking. We use them to create our titles, write our journaling and even to create interesting and unique embellishments. They come in many different forms including letters cut out from patterned papers and cardstock, alphabet stamps and chipboard letters.
My favourite type of alphabet letters are alphabet stickers. They come in so many different colours, shapes, sizes and styles and are very quick and easy to use. All you have to do is peel them off the backing paper and place them wherever you want on your layout. They are self-adhesive so you can literally create your titles in seconds.
Click Here To View Our Range Of Alphabet Stickers
In this layout, for example, it took about a minute to place black alphabet letters across the bottom of the page to create a title: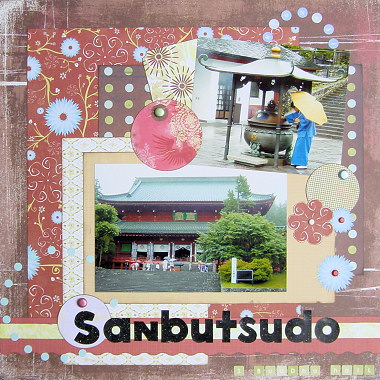 But you don't have to use your alphabet letters just as is. There are lots of different things you can do to dress them up to create more unique and personalised titles on your layouts.
1. Create A Background
The simplest way to dress up your letters is to place them on a background of some description. For example, in the layout above, the alphabet stickers were placed along a strip of green paper. This helps the alphabet letters to stand out as well as give them some personality.
The same principle can be seen in this layout: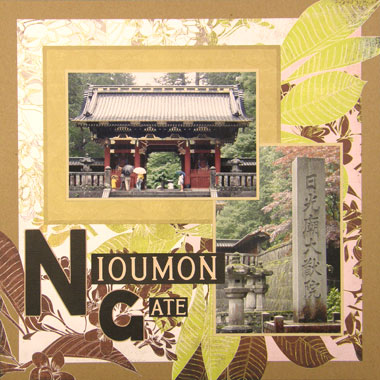 On this page, the light coloured alphabet letters really stand out because of the dark brown background they have been placed upon.
The background you use for your stickers is completely up to you. Most of the time you will probably use pieces of cardstock or patterned paper, but you can try other mediums as well. For example, this title has been made from Beary Patch Party Alphabet stickers and placed on a piece of white Magic Mesh to make the letters into a prominent element of the page as well as give the layout a bit of texture.

Click Here To View Our Range Of Alphabet Stickers
2. Mat Your Title
Another simple method to give your alphabet letters character is to mat them. You could mat each individual letter as shown in this layout: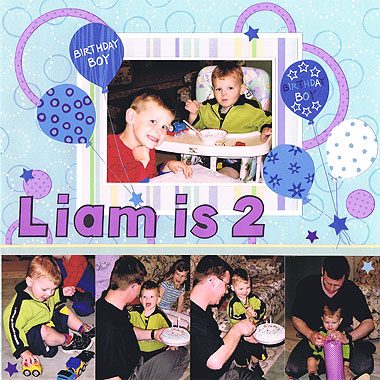 This is an extremely effective technique, although a little time-consuming and often requires you to have good scissor or craft knife skills. I don't want to put you off matting your letters as I LOVE this technique and use it all the time, but just keep in mind what it involves.
Instead of matting each individual alphabet sticker, you could mat your whole title block. This is less time consuming and can be just as effective. For example, in this scrapbooking layout, the alphabet letters have been placed on an oval journaling piece. The oval has then been matted before being placed on the page.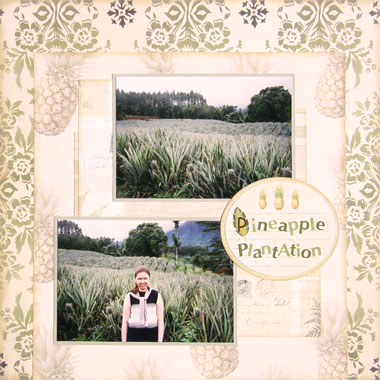 3. Simple Shapes
If you would like each individual letter to stand out but don't feel like matting them like in the birthday layout above, you could instead use simple shapes like squares and rectangles as the mats for each letter.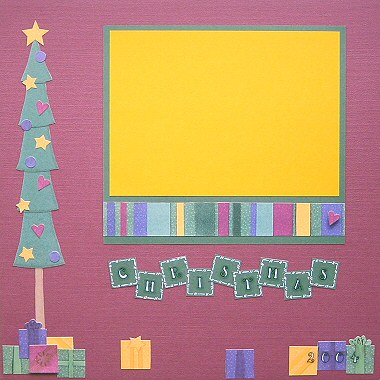 In this scrapbooking layout, each letter sticker was placed on its own dark green square. A white pen was used to draw a border around each square and then the squares were glued in place to create a title.

Your shape does not have to have a plain background. For example, the title above was made by stamping a floral image on a piece of pink cardstock, cutting the cardstock into eight squares and then placing a Beary Patch Pink Rosebud Alphabet sticker in the centre of each one.
Click Here To View Our Range Of Alphabet Stickers
Of course, your shapes don't have to be square either. Try spicing it up a little with other shapes such as circles, stars, balloons or hearts. This title uses Easter Egg shapes.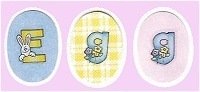 You can also try using different shapes in the same heading. For example, the first letter might have a square matt, the second letter a heart matt and the third letter a rectangular matt. The possibilities are endless.
4. Tags
Tags are a great way to add personality to your layouts and can be easily incorporated into your titles and journaling.
Following on from the idea of using shapes in your title, you could create a small tag for each letter of your title, as shown in this title: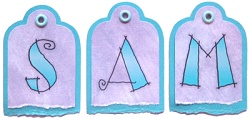 Alternatively, you could create a single tag the features your entire title, as shown here: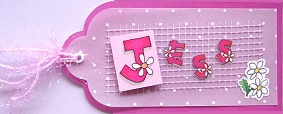 This tag was very easy to create. The tag itself was made from pink cardstock with a vellum overlay and Magic Mesh placed across the middle. The first alphabet letter was then placed on rectangular background before being stuck to the tag with foam tape. The rest of the letters were then placed directly onto the magic mesh. Finally, the tag was further embellished with white daisy stickers, a white eyelet and pink fibres.
5. Mixing It Up
Once you get used to using alphabet stickers, you can really start to have some fun by mixing it up a little.
Instead of using the same letters for your whole title, replace the first letter (or the first letter of each word) with a different type of letter. It can be a different size, font or colour. It gives your layout that extra special touch and draws focus to your title with very little effort on your part.
For example, Doodlebug white alphabet stickers were used to create the title on this layout: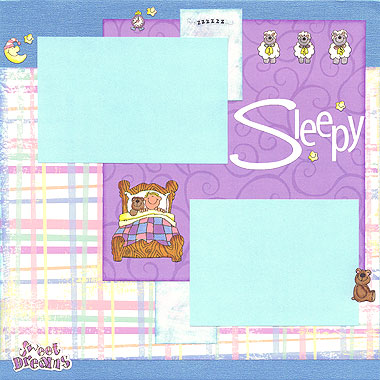 However, for added interest, the first letter was cut out from white cardstock with a different size and style to the other letters, giving the page an edge it would not have had otherwise.
The variations don't stop there. You could also use different types of alphabet letters for each word of your title, as shown here: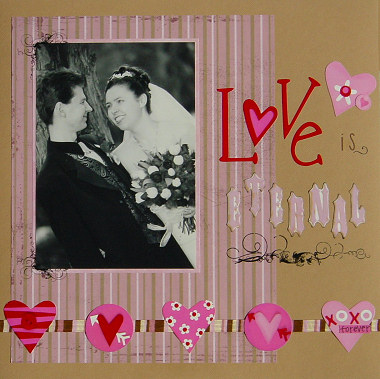 In this layout, red Doodlebug alphabet stickers were used for the word 'Love,' brown Junkitz letters were used for the word 'is' and pink Creative Imaginations alphabet stickers were used for the word 'Eternal.' The combination of styles, sizes and colours created a sophisticated and stylish title in a short amount of time and with very little effort.
Click Here To View Our Range Of Alphabet Stickers
When you are comfortable with mixing and matching, try combining several different letters into each word of your title, as demonstrated in this layout: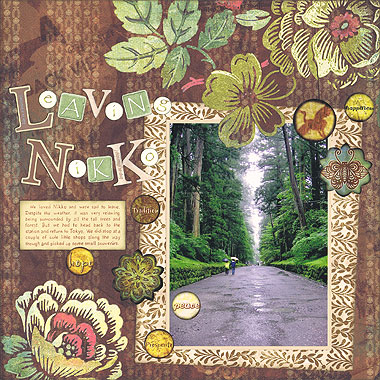 This layout uses a combination of letters from Pebbles Inc, Hot Off The Press and Paper House to create a completely unique title (you can be sure noone else has created a title exactly the same as this one!).
6. Embellishing The Letters
There are so many different ways to use your alphabet letters to add personality and style to your pages, but you can actually enhance the stickers themselves as well.
One of my favourite techniques is to add glitter to make your letters sparkle, as seen on this title:

Here, Beary Patch Snowy Days Alphabet stickers were matted onto blue snow paper and then onto white cardstock. In itself, this is a great effect for those snowy layouts, but you don't have to stop there. You can also use glitter to embellish the white snow caps on the letters to create a glistening sparkly effect, just like snow.
If you are a more experienced scrapper you may like to try gluing embellishments like buttons, felt or sequins on top of your letters to further personalise them and create a more three-dimensional, textured look.
For example, this letter has been embellished with beads:

The letter was first adhered to a piece of patterned paper. The red section was then covered with crystal lacquer (any type of strong glue can be used here) and the red beads placed on top. If you are using a technique like this, make sure you give it ample time to dry to ensure your beads are glued securely in place.
To further embellish this letter, a red heart from another letter was then cut out and placed above the heart on this letter sticker with a pop dot.
This is a great technique for those special layouts or to just enhance the first letter of a name or title.
Alphabet letters are an important part of any scrapper's toolbox with alphabet stickers being amongst the most versatile and easiest type to use. They give an easy and quick way of creating titles and journaling on your scrapbook pages. And there is so much you can do with them that both novice and experienced scrappers can spend hours and hours finding new, creative ways to use them and dress them up.
Click Here To View Our Range Of Alphabet Stickers
I'd love to hear your thoughts and ideas for using alphabet letters on your layouts. Please leave a comment in the comments box below.