Butterfly stickers are probably my all time favourite type of stickers. My albums are literally full of them. I just can't help it! They are so pretty! And there are so many designs and styles to choose from!
Click Here To View Our Full Range Of Flower & Butterfly Stickers
Stickopotamus (Sticko for short) stickers from EK Success are amongst the best. They offer a wide variety of flat, glitter, vellum, shiny and metallic butterfly stickers to choose from. They come in pretty pinks, pastel purples, bright oranges and all sorts of other fun colour combinations so there is something for everyone.
Butterfly stickers can be used on a wide variety of scrapbooking projects including feminine layouts, layouts of flowers and the beauty of the great outdoors, off-the-page items like photo frames or tins and so much more.
In this layout, I have used glittery pink butterfly stickers from Sticko to compliment my pink flower photo: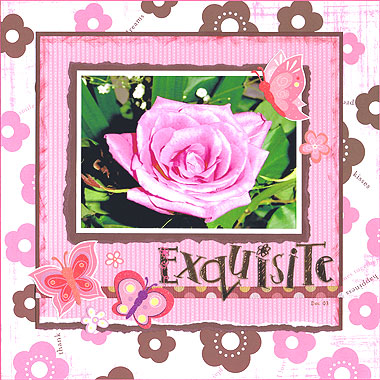 Materials Used: Pink cardstock, Scrapbooking Australia Strawberry Candy paper, Provo Craft Pink Stripes paper, burgundy cardstock, white cardstock, pink ink, a brown pen, pink ribbon, Around the Block Black Alphabet stickers and Stickopotamus stickers.
This layout was surprisingly easy to create. I used a sketch from 500 Scrapbooking Sketches to guide my design.
Here are some tips to note when re-creating a layout like this.
1. The background paper was not a true 12×12 paper (don't you hate that!) so I matted it on pink cardstock. It gave the layout a nice pink border as well as made my page 12×12.
2. To create the border around the pink stripes paper, I first used a brown pen to lightly draw a handful of horizontal and vertical lines in the top right and left corners. I then used a pink ink pad to brush ink all around the top and side edges. I used a criss-cross pattern for added interest.
3. Two of the butterfly stickers were matted with white cardstock to help them stand out from the background.
4. The alphabet stickers were not placed in a straight line. This was to make them more interesting, but also to help them fit.
5. There are several torn edges on this page. When tearing paper, always tear slowly and towards you for more control.
Butterfly stickers add a beautiful touch to your scrapbooking layouts. Give them a go. You might be surprised at just how gorgeous your pages turn out!
Click Here To View Our Full Range Of Flower & Butterfly Stickers
I'd love to hear your thoughts and ideas for using butterfly stickers on your layouts. Please leave a comment in the comments box below.