This week has been very special for me. My Mum decided to take up scrapbooking and made her first ever scrapbooking layout. I am so proud of her page and couldn't wait to share it with you.
She used our new line of Basic Grey Wisteria papers.
Click Here To View Our Range Of Basic Grey Papers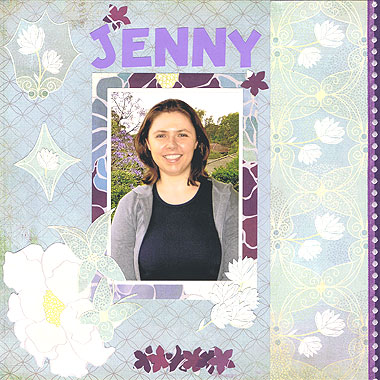 She created this scrapbooking layout using Basic Grey Wist Garden Paper Pack, white cardstock, a flower punch, purple ribbon and Making Memories Purple Alphabet stickers.
The photo is of me standing on our balcony (and yes, my Mum does call me Jenny – not Jen! Lol!).
Now you might be thinking that I helped Mum a lot with this page, but I really didn't. The design is all hers. The only things I did were to suggest she include some ribbon somewhere and I helped her cut out a couple of flowers (after she had decided what she wanted to use).
My favourite element of the page is the frame she has made around the photo. I love how she has used a very busy and colourful paper to draw your attention to the photo without overwhelming you.
I also love how she has cut out a wide variety of shapes from her Basic Grey papers to create unique embellishments for her layout. This is a technique I often use, but I would not have thought to cut out the crest shape in the upper left corner or the butterfly shapes she has used in the bottom left corner of her photo.
I am so excited that my Mum has taken up scrapbooking and I am extremely proud of her first efforts. Please help me encourage her to continue scrapping by leaving a comment below. It really would make her day!
Thank you so much!