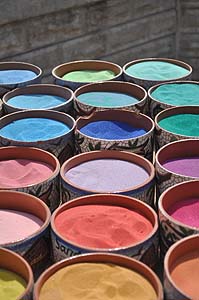 For me, living creatively is not a choice…it's who I am. But the truth is, we are all creative. It's just that sometimes it's hard to see that creativity, much less have confidence in it.
For example, I remember chatting with my grandmother one day about how creative my mother is (she loves to paint and play with colour). I'll never forget my grandmother turning to me and telling me she had never believed that she was creative. She didn't paint or draw or do any handicrafts.
But one day she realised she expressed her creativity in the kitchen.
And it's true. I always remember her in the kitchen. It didn't matter whether it was huge roast dinners for hungry farmers or yummy chocolate treats for her one and only granddaughter (ie me)…she always seemed at home in the kitchen.
That realisation changed her way of thinking. She realised creativity is not about being an amazing artist but more about giving yourself permission to forget the rules and just play. It doesn't matter if it's with paint, in the kitchen, or in our case, with scraps of paper.
So I challenge you to throw away your ideas of what it means to be creative. Don't worry about whether or not you think your scrapbooking pages are good enough. It doesn't matter if your papers don't match perfectly or you accidentally stick something down in the wrong place.
Focus on the joy your photos and your supplies give you and just give yourself permission to play.
And in the words of Alan Alda:
"Be brave enough to live life creatively. The creative is the place where no one else has ever been. You have to leave the city of your comfort and go into the wilderness of your intuition. You can't get there by bus, only by hard work and risk and by not quite knowing what you are doing. What you'll discover will be wonderful. What you'll discover will be yourself."
And you are amazing!
It's not often I write such a reflective post. I'd love to know what you think. Please leave me a comment below.