The Christmas season is well and truly upon us. It's a great time to organise some Christmas craft activities with your kids and your crafty friends. Personally, I love to use this time of year to make Christmas cards, catch up on any of the Christmas scrapbook pages I didn't get around to making last year and pre-make some pages for this year's photos. It's the perfect way to remember last year's special moments and get into the Christmas spirit for the festivities ahead.
It is a very busy time of year though. There's always something happening and it isn't always easy to squeeze in some craft time. As a result, I look for quick Christmas scrapbooking ideas that I can whip up in less than an hour. For this, I always turn to my collection of 500 Scrapbooking Sketches. They always help me get started (I don't have time to procrastinate!) and, because they give me a plan to follow, I don't have to waste time agonising over what to do.
Click Here To Order Your 500 Scrapbooking Sketches Now
I created this layout in under an hour using Sketch #318 from my collection of 500 Scrapbooking Sketches.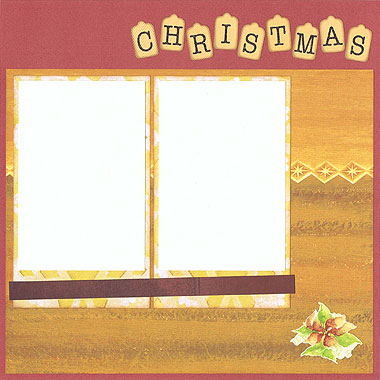 Materials Used: Cream cardstock, Magenta scrapbooking papers, Patchwork scrapbooking papers, Provo Craft Christmas sticker and Paper Pizzazz Tag Alphabet.
This is one of the pages I have pre-made for this year's photos. I have made it to feature two 4×6 photos. The original sketch also had space in the bottom right corner for a smaller photo, but I decided to replace it with a sweet Christmas poinsettia sticker from Provo Craft. I thought it made a nice embellishment that complemented my colour scheme.
The sketch was very easy to follow. There aren't many elements but they combine beautifully for a well-balanced page. And the best thing is, I can re-use the design as much as I like. If I change the colour scheme and the patterns, I will have a completely fresh design.
I also found that I saved a lot of time with this page by using two papers from the same paper collection. Scrapbooking manufacturers often release a collection of three, four or even more papers that all co-ordinate and can be mixed and matched with each other. By using papers designed to go together, you don't have to take additional time going through your own stash trying to figure out which papers work with which – it's already been done for you. It makes things so much easier and quicker!
I hope you like this design and will adapt it to your own Christmas scrapbooking projects. I'd love to see what you come up with!
And of course, this design is based on only one sketch. There are another 499 sketches in my collection!
Click Here To Order Your 500 Scrapbooking Sketches Now
I'd love to hear what you think of my quick Christmas scrapbooking idea. Please leave a comment in the comments box below.