School holidays are the perfect time to get in some quality time scrapbooking with teenagers. And that's just what I did last week. My 13 year old niece, Ashleigh and I spent a morning scrapping and having a wonderful time. So I thought I would show off her masterpieces (call it 'Proud Auntie Syndrome').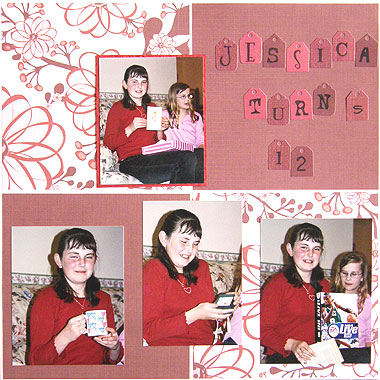 This is the first page she created. The photos are of her elder sister, Jessica's 12th birthday. She used Chatterbox Powder Puffs paper, white cardstock, red crate paper and Bo Bunny Barn Red Linen Alphabet Tags stickers.
I scrapped photos from the same event awhile ago. Funnily enough, my page actually looks quite similar. If you would like to see my take on it, you can find it here: http://www.stickersnfun.com/skch02.asp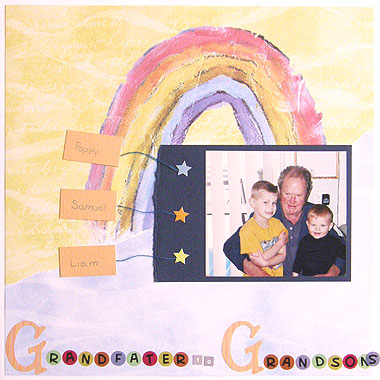 This is the second page she created. It features her grandfather and two younger brothers. I'm not sure what the papers are (they came from her own stash) but she used dark blue Bazzill cardstock, orange Bazzill cardstock, blue thread, a blue pen. a selection of alphabet stickers and star stickers from Pebbles Inc My Guy Words stickers.
Ashleigh used sketches from my 500 Scrapbooking Sketches book to complete both pages. The sketches made it so easy for her to create these pages – she just had to find one she liked and get started. There was no umming and ahhing, just lots of fun. It turned out to be the perfect resource for scrapbooking with teenagers.
If you don't already have your copy of 500 Scrapbooking Sketches, Click Here.
I really am a very proud aunt. I think Ashleigh did a wonderful job with her creations. Please let her know what you think by leaving her a comment below. I know it would just make her day!
Thank you.