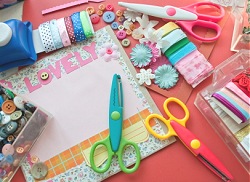 When you begin a scrapbooking project, do you fumble hopelessly about in search of certain supplies? Or, worse yet, do you choose to not even start your scrapbooking project for the sheer inconvenience of having to dig through all your stuff to find what you need? Don't worry – you are not alone. There is good news however. You can get organised in 3 simple steps and get back to enjoying your scrapbook creations.
1. Organise Your Ideas
You no doubt come across great scrapbooking ideas all the time that you would like to stash away for future projects. But where are those ideas when you want to start putting together your scrapbook? By organising your ideas, you can quickly and easily access them all when you need them. There are a few ways you might try for organising your scrapbooking ideas:
Store them in categorised computer files (this is what I do)
Store them in categorised hanging files
Store them in categorised sections of a 3-ring binder or compartmented organiser
You'll notice the emphasis on "categorised." Like anything else, your scrapbooking ideas will be easier to find when you have them divided into relevant category titles, eliminating the need to sort through your whole stack of ideas every time you want to start a new scrapbooking project.
2. Organise Your Supplies
The popularity of scrapbooking has soared and with that popularity has come multiple solutions to your scrapbooking needs. Supply organisers come in many shapes and sizes, from easy to carry compartmented caddies, to moveable drawer stands, designed for organized storage of anything and everything scrapbook. Dedicate specific places to store your paper, your stickers, your marking pens, cut-outs, stencils, templates, scissors and hole punches…everything you need and use in creating your scrapbooks.
Keeping your photos categorized and labeled in photo boxes is another great way to get organized too!
3. Organize Your Themes
Choosing themes is an important part of creating scrapbooks that really stand out. If you have scrapbook themes that you use frequently, it's good to keep a separate space in your craft space that is devoted just to that theme.
For example, if your son or daughter plays soccer, keep all your soccer related items and his/her soccer team's colors in an area all of their own. That way they will be easily accessible for the many scrapbooking projects you will be doing within this theme. Similarly, if your son or daughter is a musician, you don't want to have to go digging through all the soccer balls and soccer nets to find the musical notes and piano keys.
By keeping commonly used themes organised within their own special areas – even a simple folder or binder will do – you can save yourself a lot of time and frustration in all your scrapbooking projects.
Scrapbooking is a great way to hold on to those cherished family memories by preserving the special moments for posterity in a book you made yourself. You can increase your enjoyment of scrapbooking by eliminating the frustrations of searching for needed supplies to complete your project. By following these three simple steps, you will be an organised scrapbooker in no time!