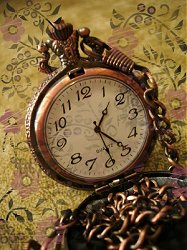 Finding time to devote to your scrapbooking albums can be a struggle, even for the most devoted scrapper. We all get caught up in the whirlwind of life. There's always something to take attention away from our craft. So, when we finally do find time to scrap, it is important to make the most of that time. The more pages we can finish (and be proud of) the better, right?
It is possible to achieve more in the time we have to scrap. All we need to do is shift our approach to scrapping just a little and employ a few very simple techniques. Give them a try and you are sure to be creating layouts faster and with ease.
1. Be organised! The biggest time saving tip that I can give you is to keep your scrapbooking supplies in some kind of order. How you organise your supplies is up to you but make sure you know where all your supplies are and that they are all easily accessible. That way you don't have to go searching through everything every time you scrap. Plus, it will be a quick and easy clean up after each project so you are not confronted with a big mess next time you sit down to scrap.
Different systems work for different people. Personally, I organise my supplies by type (eg paper in one place, stickers in another, ribbon in another etc) and then by colour. Find the method of organisation that suits your scrapbooking style.
2. Use multiple photos. I know that pages featuring one photo can look simply stunning and are a lot of fun to make. But, if you ensure a majority of your pages include more than one photo you will move through your photos much faster and maybe even finish off some of those albums sitting on your shelf. With more photos on the page you will also find each layout takes less time to embellish as you simply don't have as much space leftover to embellish.
3. Use pre-made alphabets. Whether they be alphabet stickers, rub-ons or die-cuts, pre-made alphabets can save you enormous amounts of time by making your titles quick and simple to assemble. Stamping or even cutting out your own letters can be very effective but quite time-consuming. If you use a lot of letters you may like to consider purchasing a personal die-cutting machine like a Sizzix or a Cricut and several alphabet dies.
4. Use scrapbooking sketches. Sketches give you easy to follow templates that can be applied to any type of layout. They take the guesswork out of planning your pages and can be huge time savers. Consider investing in a copy of my 500 Scrapbooking Sketches collection so you always have ideas to refer to.
5. Finally, don't be a perfectionist. Scrapbooking is not about creating the perfect page design. It's about treasuring the important memories in your life and being able to re-live them and share them with others for many years to come.
If you have any time saving tips for scrapbooking, we'd love to hear from you! Please leave a comment in the comments box below.