Barbie stickers are the perfect embellishment for a young lady or little princess. They are feminine and youthful but can also carry a sense of style and elegance. This week, I have used Barbie stickers to create a soft and sweet greeting card. Pay particular attention to the unique background. It is so easy to do and could be used to add personality to any of your scrapbooking and card making designs.
Click Here To View Our Range Of Barbie Stickers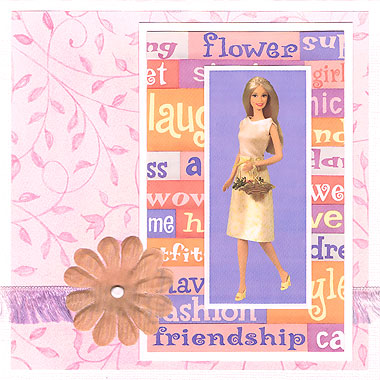 This card was created using white Bazzill cardstock, MM Colors By Design paper, white cardstock, pastel eyelash fibre, an orange/pink flower from Bazzill, a small white brad and Barbie Phrases stickers.
To recreate this card making idea, follow these steps:
1. Cut a piece of white Bazzill cardstock measuring 5 1/2 inches by 11 inches (14cm by 28cm). Fold in half to create a card. Place it in front of you so the fold is along the top edge.
2. Cut a piece of MM Colors By Design paper measuring 13cm by 13cm. Glue to the centre of your card.
3. Cut a piece of pastel eyelash fibre about 16cm long. Wrap around your card approximately 3.5cm from the bottom edge, as shown in the layout above. Make sure you secure it well at the back (you don't want it falling off later). I just used photo tabs, but use whatever adhesive you are comfortable with.
4. Cut a piece of white cardstock measuring 7.2cm by 11.7cm.
5. Select a phrase sticker from your Barbie Phrases stickers (I have chosen one that says 'friendship') and stick in the bottom left corner of your white cardstock from the previous step. Working up and across, cover the whole piece of cardstock with different phrase stickers. It doesn't matter which ones you use, but try to mix up the colours and sizes a little for variety.
6. Mat your cardstock covered in phrases from the previous step with white cardstock and glue on the right side of your card.
7. Select a Barbie sticker from your sheet of Barbie stickers and mat with white cardstock. Glue on top of your phrases as shown above, making sure it is slightly off-centre.
8. Finally, using a small white brad attach an orange/pink flower towards the bottom left corner of your card.
What do you think? Do you like this card making idea using Barbie stickers? Do you have any questions? Would you have done anything different? We'd love to hear from you! Please leave a comment below.