K&Company stickers are in a class all of their own. They're stylish, they're sophisticated and they look fabulous on your scrapbooking pages and cards. Many of them are also three-dimensional to give your projects extra pop.
Click Here To View Our Full Range Of K&Company Stickers
While browsing K&Company's website, I came across this absolutely stunning card I just had to share with you.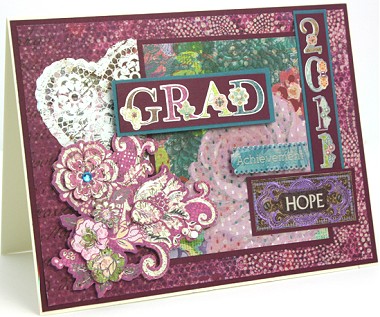 Artist: Melanie Cantrell
The first thing I noticed about this card was the rich colour scheme. It simply draws you in with its deep purples, greens and a touch of white.
The design also really plays with dimension by layering one element on top of another. The white heart is tucked behind the green floral paper and then the beautiful K&Company floral sticker is placed on top to give the card depth. The sticker is also three dimensional and embellished with a rhinestone to really make it stand out.
This card has been made for someone's graduation, but it could easily be adapted to suit any theme or event. You'd simply have to change the words and the date.
What a great way to make someone feel special. I wonder who the lucky recipient of this beautiful card was!
Click Here To View Our Full Range Of K&Company Stickers
I'd love to hear what you think of this K&Company stickers ideas. Please leave a comment in the comments box below.