Creating your own beautiful and personalised Christmas cards for your family and friends is a great way to kick off the Christmas season and get into the holiday spirit. It's also an extremely rewarding craft and a wonderful way to express to your loved ones just how much you treasure them.
But with Christmas only a few weeks away, there isn't much time left to gather your Christmas card ideas and get started making your creations.
Card sketches are the perfect place to start, especially when you are a little time pressed. They layout the basic design elements for you so that you can see at a glance what your card will look like and what you will need to create it.
They give you a short-cut to making spectacular cards while still giving you the freedom to choose your own colours, patterns and embellishments.
Get Your 50 Card Making Sketches Now
This Christmas card was made based on sketch #7 from my collection of 50 Card Making Sketches: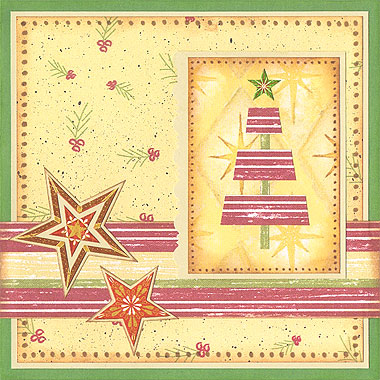 Materials Used: Green cardstock, patterned papers by Sweetwater and Magenta, light brown cardstock, brown ink, a brown pen, decorative-edged scissors and Star Bright stickers from Flair.
The great thing about sketches like this one is that you can adapt the design to suit your own ideas. For example, in my collection of 50 Card Making Sketches, I created a green, yellow and blue floral card to demonstrate how to use this sketch. And yet, as you can see, this card follows a Christmas colour scheme and design.
Also, the original sketch has a circular element in the bottom left corner but in this card, I have replaced the circle with two stars as I thought it was more Christmasy.
Using this sketch saved me a lot of time umming and ahhing and trying to figure out a design on my own. It gave me that starting point that I needed while still giving me the freedom to adapt it to suit my project.
This is just one example of how you can create card ideas of your own with ease by using a card making sketch.
50 Card Making Sketches features a collection of 50 unique card sketches as well as examples and full instructions on how to use them.
It's full of ideas and inspiration to make your Christmas card making a breeze…not to mention lots of fun!
Surprise your loved with beautiful handmade cards this Christmas.
Get Your 50 Card Making Sketches Now
I'd love to hear what you think of this Christmas card idea! Please leave a comment in the comments box below.