Now that Christmas is over, my attention turns to birthdays. We have quite a few family birthdays early in the year so I don't have long to whip up some fun birthday cards. I know I could just buy some at the store, but it's so much more rewarding to be able to create something personalised and specially tailored for the recipient.
For most of my birthday cards, I used birthday stickers as my embellishments. They give my cards personality without taking too much time.
Click Here To View Our Full Range Of Birthday Stickers
I thought I'd share with you what is sure to be the first of many birthday cards I make this year. I hope you like it: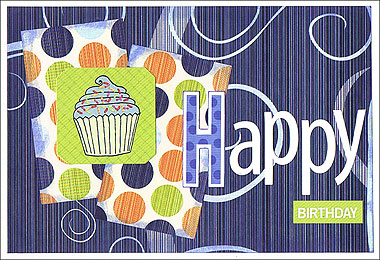 To create this card, I used white cardstock and scraps of paper I had left over from previous projects. The background is a simple blue patterned paper – great for setting the scene on a birthday card for a guy. I have inked the edges with blue ink to give it character and depth.
I then added two over-lapping vertical rectangles on the left side of the card to create a background for my embellishment and to create a contrast with the background paper. Again, I inked the edges to give them definition.
I then added my 'Happy Birthday' message. I did this before adding my embellishment so I could work out the best placement for all the different pieces and ensure that I had plenty of space for my sentiment.
To create the sentiment, I used a range of stickers. The large white alphabet stickers are from Doodlebug. The blue 'H' is a Creative Imaginations alphabet sticker matted with white cardstock. The 'Birthday' sticker came on a sheet of birthday stickers but you could easily replace this with small alphabet stickers.
Finally, I added my cupcake sticker to complete my design. You could use any birthday-themed sticker as your embellishment. Or you could use a sticker depicting something the recipient of the card really loves (like a sport, destination, hobby etc). It's up to you!
Click Here To View Our Full Range Of Birthday Stickers
I'd love to hear what you think of my Happy Birthday Card Idea. Please leave a comment in the comments box below.