Last week I introduced you to the adorable Japanese bear, Rilakkuma, so today I thought I would share a cute card I made using some of our new Rilakkuma stickers. I hope you like it!
Click Here To View Our Full Range Of San-X Rilakkuma Stickers
Rilakumma is known as a relaxed, somewhat lazy, bear. The name Rilakkuma is actually a combination of the Japanese word for relax and the Japanese word for bear. He is often seen lying around and enjoying some time off. I thought I might try to follow on with this theme in my card design: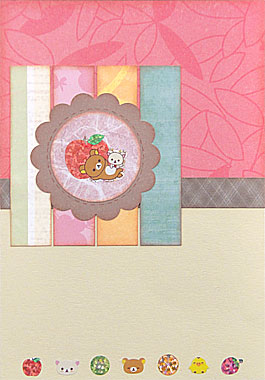 Materials Used: Brown cardstock (two shades), scraps of scrapbooking papers, brown ink, a brown pen and San-X Shiny Rilakkuma Fruit Kawaii stickers.
I choose a sticker of Rilakkuma leaning back against an apple as my centrepiece. I placed it in the centre of a pink circle which I then matted on a brown flower-shaped cut-out. To further highlight my centrepiece, I inked the edges of both the circle and flower with brown ink and drew a dashed border with a brown pen.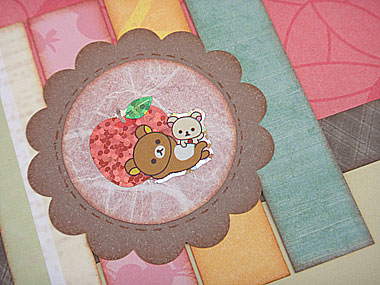 I then created a colourful background using pieces of scrapbooking papers left over from other projects.
First, I covered the top half of my card with a leaf-patterned paper and covered the join between it and the brown cardstock background with a strip of dark brown paper. I then placed a row of four strips of patterned papers on the left side of my card to create a backdrop for my Rilakkuma centrepiece.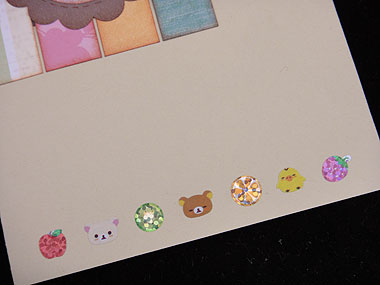 Finally, I added a row of mini Rilakkuma and fruit stickers across the bottom of my card. If you wish, you could also add a sentiment like 'Happy Birthday' in the bottom right corner, just above the stickers.
Click Here To View Our Full Range Of San-X Rilakkuma Stickers
I'd love to hear what you think of our new Rilakkuma stickers. Please leave a comment in the comments box below.