One thing I have always loved to do is to write letters and notes to my friends. Even now that we have email, I still think there is something special about writing and receiving hand-written letters. So this week, I thought it would be fun to make my own letter set using some of our adorable kawaii stickers.
Click Here To View Our Full Range Of Kawaii Stickers
Handmade letter sets are a great way to personalise your mail, but they also make wonderful gifts for the letter-writers in your life. Perhaps you could make a collection of personalised writing paper with matching envelopes for a letter writer in your family this Christmas.
For this letter set, I wanted to make something cute, so I chose to use these Cute Happy Sea World kawaii stickers.
Other than that, all I needed was some plain white paper, two shades of blue ink and a line stamp to create this letter paper with matching envelope: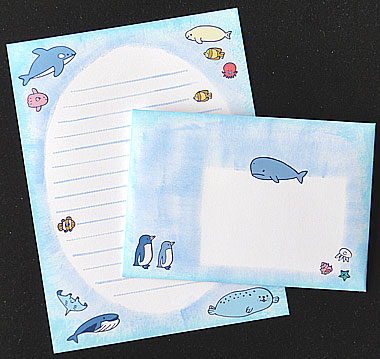 To create the letter paper, I cut a sheet of plain white paper to the desired size. I then inked the edges with light blue ink and set it aside to dry.
While I waited for it to dry, I used a scrap piece of paper to cut out an oval shape. I then placed it over the centre of my paper to cover the area that I wanted to keep white. I then smudged my second shade of blue ink all over the remaining exposed section to create a nice background.
I also used a line stamp to stamp in the lines for writing on. I left two little spaces in the lines though, so I could add the two small fish stickers.
When everything was dry, I decorated my new writing paper with my Cute Happy Sea World kawaii stickers to give this result: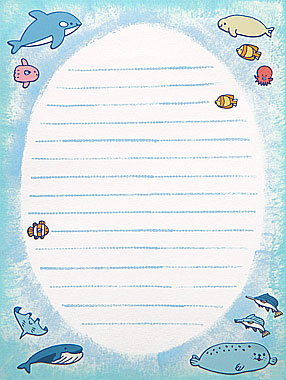 Of course, writing paper also needs a matching envelope, so I made one out of another sheet of plain white paper.
I used the same technique as above with my two blue ink pads to create the blue background. I left a white rectangle in the bottom right corner so I can write an address there later. I then decorated the envelope with some more of my Cute Happy Sea World kawaii stickers.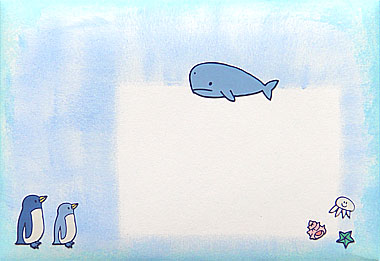 And now I have an adorable letter set to write a letter to a friend. What could be more special than a hand-written note on paper made just for them?
Click Here To View Our Full Range Of Kawaii Stickers
I'd love to hear what you think of our new kawaii stickers and my new kawaii letter set. Please leave a comment in the comments box below.