Kawaii sticker sacks have just arrived from Japan and I just know you are going to love them! If you haven't seen them before, they are little packets of sticker heaven bursting with kawaii cuteness! I love these stickers and I use them myself for so many different things ALL the time! (Just ask my hubby…I have them lying around all over my desk and my scrapping area!). I can't help it. They just make me smile.
And, they make the perfect stocking fillings at Christmas. They are small, inexpensive and super cute. Sticker enthusiasts are guaranteed to love them (who else is going to give them unique stickers from Japan?) and they make fantastic gifts for your kids to give their friends at this festive time of year!
Click Here To View Our Full Range Of Kawaii Sticker Sacks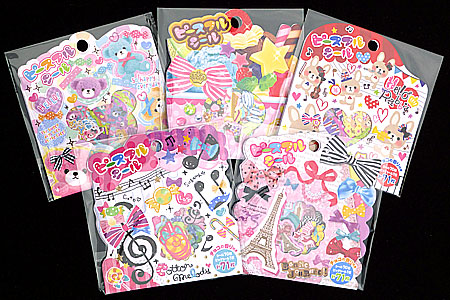 Sticker sacks come in a wide range of designs so there is something to suit every taste. As you can see from just the selection above, there are cute teddy bears, pretty bows, yummy sweets and more.
Each pack usually contains 10 different individual stickers, known as sticker flakes, and 7 to 10 of each. Some even have bonus big stickers or puffy stickers.
The sticker flakes themselves can also vary greatly. Some are ordinary stickers, some are shiny and some are made from a metallic material. Each one is only around 2cm long, making them super cute and very versatile.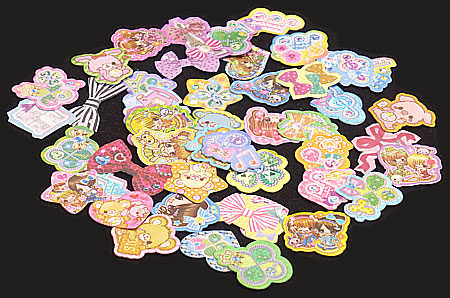 You can use them to decorate your paper crafting projects, dress up your mail or even embellish items around your home.
One of my favourite uses for them is to scatter a few of them inside letters and cards as a nice surprise for the recipient when they open them. It's a wonderful way to share the spirit of giving with your friends and family and is sure to bring a smile to their faces.
Why not include a few with your Christmas cards this year? It's a nice way to give a little gift to everyone on your Christmas card list without going broke.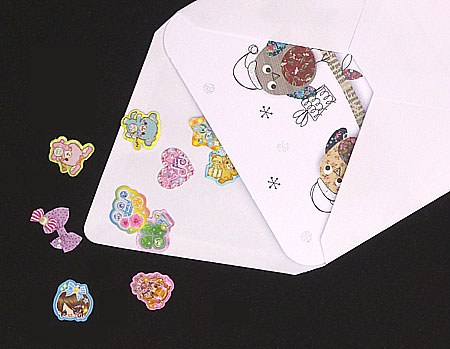 Of course, there are many other uses for sticker sacks and sticker flakes – you could include them in goodie bags at children's birthday parties, decorate the edges of a photo frame and more. You can even collect them and swap them with friends. Get some today and see where your creativity leads you.
Click Here To View Our Full Range Of Kawaii Sticker Sacks
I'd love to hear what you think of our new kawaii sticker sacks. Please leave a comment in the comments box below.