Heritage scrapbooking is a great way to create a valuable, unique and important visual record of your family's heritage for your descendents. Most of us have mountains of family photos and memorabilia sitting around in old albums and shoeboxes gathering dust – not the ideal conditions for preserving them! So why not have some fun and breathe some new life into them. You will be creating an heirloom that your family will love and treasure!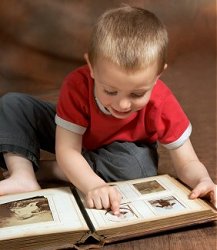 When creating your heritage scrapbook, there are some things you should consider:
1. How much of your family tree (and your partner's family tree) do you actually know? Write it out. Don't forget to include dates and places of births, deaths and marriages. If there are gaps in your knowledge, ask other family members for help or consult family history websites.
2. How much to you know about your family members, both of this generation and previous generations? How many photos and other things of interest do you have? Collect everything together and organise them. If you feel you do not have enough, ask other family members if they have anything they could contribute.
Archival Quality
Before we go any further it is vital to stress the importance of only using archival materials in your heritage scrapbook.
Many old photos have already succumbed to aging and have probably come into contact with materials containing acid and lignin. I highly recommend you have copies made of all your heritage photos and use these in your albums. You will be able to protect them, plus you won't have to worry about cutting up the originals. If you do decide to use originals, use photo corners in case you need to remove them later.
Keep in mind that newspaper clippings, magazine ads, certificates and other memorabilia are not photo safe. If you wish to include them in your scrapbook too, either use copies, spray them with archival mist or use memorabilia pockets to keep them and your photos safe.
Of course, all heritage scrapbooking materials at Stickers 'N' Fun are photo safe.
Click Here To View Our Range Of Heritage Scrapbooking Stickers
The Size Of Your Album
You will also have to decide how big and extensive you wish your heritage scrapbooking album to be. A small album may include just your immediate family or one generation. This is perfect for short projects and mini albums.
Alternatively you could create an enormous album featuring everything you have and everything you know about everyone. Keep in mind that this is quite an undertaking. Do you really have time for this? Perhaps there is someone who can help you.
Most likely, you will choose somewhere in between.
Themes
Now that you have decided the size of the heritage scrapbooking project you wish to take on, it's time to go about choosing the photos and the memorabilia you would like to include. One way to do this is to choose a theme.
Possible themes include:
 Births and Baptisms
 21st Birthday Parties
 Family Members in Sport / Art / Dance or any other activity
 Family Members in Military Service
 Occupations – How did everyone earn a living?
 Weddings
 Holidays
 Famous Family Members
 Deaths, Grave Stones and Eulogies
 School Days
 Family Reunions
 Family Traditions
 Family Pets
Another way to organise your scrapbook is by time. For example, you could focus on your family in the 1950s or the 19th century.
Title Pages
Your title page sets the scene for the rest of your album. It could include your family tree with a heading and if space permits, either an indication of what part of the family tree is featured in the album or a statement of the theme.
Also, make sure you include your own name on the title page (Eg Compile/Created by…) and the date. After all, you are an important part of your family's heritage too.
Journaling
Journaling is an important part of heritage scrapbooking. It is important to record who is featured in the photos so future decorations have a record. Also include their relationship to you. For example, "Aunt Mary, Mum's eldest sister."
Where possible, try to not only identify the person in the photo, but also include something about them. For example:
 Pop was a practical joker.
 Pop loved gardening.
 Nana said it was love at first sight when she and Pop met.
 Aunt Mary loved animals and had 13 cats and 6 dogs.
 When I knew him, Fred has a 1932 Ford pick-up truck.
 Grandma made the best cakes in the world.
 Aunty Phyllis had a cabinet full of tennis trophies.
Colours
You may decide your colours with each new page or you might decide to use a consistent colour scheme throughout your album.
Heritage colours are usually browns, greens, an occasional deep red and an occasional deep blue, but it's up to you which colours you want to use. You may like to include soft pinks or blues and browns on baby heritage pages.
To keep in sync with the heritage feel of your album, try having your old photos re-printed in sepia for that old-time feel.
Heritage Scrapbooking Ideas
There are many scrapbooking techniques that work well with heritage layouts. Collages can be particularly effective for creating that vintage feel, as seen in the layout below.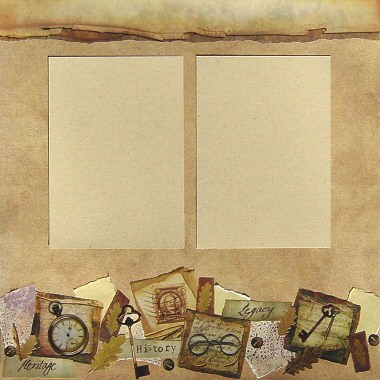 Materials Used: Marah Johnson Canvas Wash paper for the background, brown Paper Garden cardstock for the photo mats, scraps of Hot of the Press Lace paper and KI Sand Linen paper and Karen Foster Heritage stickers.
Other techniques include:
1. Distressing your papers by scratching the surface with a nail file or sand paper
2. Age your papers by smudging brown or black inks around the edges or across the surface.
3. Scrunching up your papers and then flattening them again to give an old, used effect.
4. Creating your own backgrounds by scanning some of your memorabilia. Fabrics, old letters and postcards work particularly well for this.
Now it's time to select your supplies and get started!
Click Here To View Our Range Of Heritage Scrapbooking Stickers
I'd love to hear your thoughts and ideas for heritage scrapbooking. Please leave a comment in the comments box below.