It's an exciting time here at Stickers 'N' Fun. Our first shipment of stickers has just arrived from Japan and they are absolutely gorgeous! We are in love with them and we know you will be too. They are so different to the stickers we usually stock from the USA and they open up a whole new range of creative possibilities. We hope you are going to have just as much fun with them as we are!
It will take us a few days to process them all and upload them onto our website, but in the mean time, we wanted to share with you a sneak peak.
So, here it is! This is a gift box I made using one of our new sheets of Japanese stickers, some Anna Griffin scrapbooking paper, blue Bazzill cardstock, scraps of paper I had left over from other projects and a few little embellishments. I hope you like it!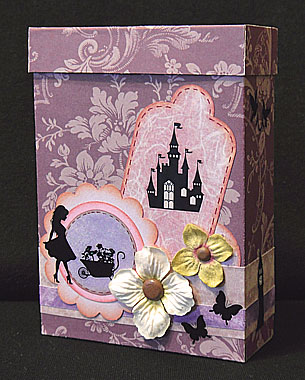 I used the purple Anna Griffin scrapbooking paper to create the actual box. I then lined the inside of the box with blue Bazzill cardstock. Before I sealed up the box, I used white ink to stamp the cardstock repeatedly with a swirly stamp to create a sophisticated interior for my creation.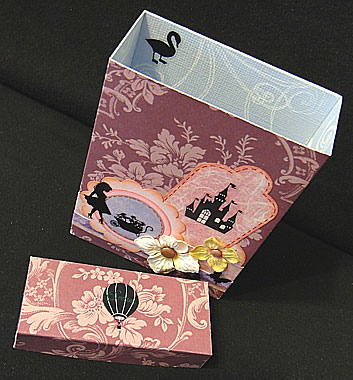 Once the box itself had been created, I set about decorating it. On the front I layered various paper elements like circles and a tag to create a sophisticated look. I then accentuated them with carefully placed stickers and flowers. And it didn't stop there. I also decorated the back and sides of my box.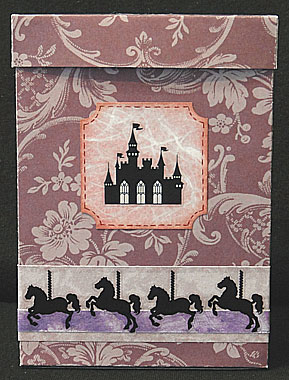 I have to admit that I love the back of the box. I just think the line of carousel horses is so sweet! They are what attracted me to these stickers in the first place.
I decorated the sides of my box with clock towers, lamp-posts and birds. Incidentally, clock towers turn out to be a wonderful way to hide a join between two pieces of paper!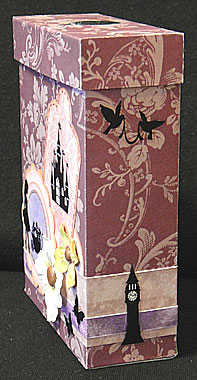 This is just one creation with one of our new sticker designs. There are so much more to come. I can't wait to share to them all with you! In the mean time, I hope you enjoyed this sneak peak. I'd love to hear what you think. Please leave a comment in the comments box below.