Zoo stickers are perfect for embellishing photos taken at the zoo or a wildlife park but to make your scrapbooking page successful, other elements come into play. Your choice of colours is perhaps one of your most important decisions when creating your scrapbooking layout - one that could make or break your designs.
Click Here To View Our Zoo Stickers
This quick double-page layout shows you not only how to incorporate adorable zoo stickers into your scrapbooking designs but also how to combine colour and texture with a balanced geometric design to create an eye-pleasing page.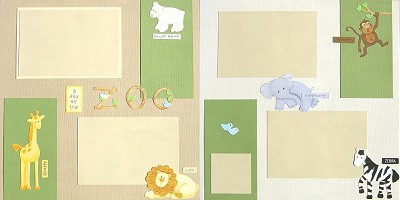 Materials Used: Four shades of Bazzil cardstock, tan cardstock and Doodlebug Zoofari stickers.
The first step to creating this layout is effectively selecting colours that match. I began with a base colour of light brown, a colour I thought was quite appropriate for a zoo layout. I then matched three other shades of complimentary browns (two Bazzil and one normal) to it and for contrast, I selected a green Bazzill cardstock.
As I am not using a lot of overwhelming patterns on this page, I have opted to mainly use Bazzill cardstock to give my scrapbooking page texture and dimension. It allows me to keep my design simple, but not boring.
Constructing this layout is very simple. All you need to do is matt four horizontal photos and place them on your background cardstocks, as shown in the scrapbooking layout above. Then cut four strips of green cardstock and position them in the corners of your page, again, as shown above.
Finally, decorate your layout with Doodlebug Zoofari stickers or any other zoo stickers you like.
Click Here To View Our Zoo Stickers
If you wish, you can also add a small square on the right-hand page (see layout above). This could be used either for a smaller photo or journaling.
And that's it! Another great layout in less than half an hour!
I'd love to hear what you think of this zoo stickers idea. Please leave a comment in the comments box below.