Cloud 9 stickers and papers are so beautiful that they make it incredibly easy to create stunning pages. The patterns and colours are just gorgeous – they even make my not-so-ideal photos look good!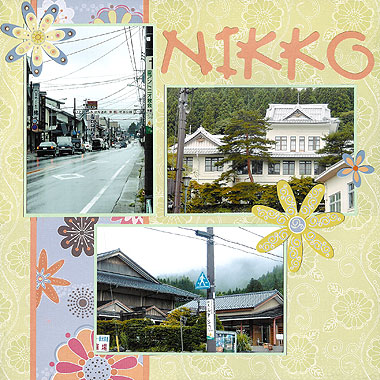 This layout was created using Cloud 9 Sorbet Villa Paper Pack, green cardstock and Cloud 9 Sorbet Villa Elements stickers.
To recreate this scrapbook page idea, follow these steps:
1. Use the green floral paper from the Cloud 9 Sorbet Villa Paper Pack as your background.
2. Cut a strip of blue floral paper approximately 8.5cm wide. Mat with orange paper so there is a 0.5cm wide orange border on either side of the blue floral paper. Glue vertically to your background approximately 2.5cm from the left edge.
3. Mat two horizontal 4×6 photos and one vertical 4×6 photo with green cardstock.
4. Place the vertical photo towards the top left corner of the page, approximately 2cm from the top edge and centred on top of your vertical strip.
5. Place the most important of your horizontal photos next to your vertical photo so that the bottom edges are inline with each other.
6. Centre your remaining photo below the other two.
7. Cut your title out of the orange paper and glue your letters in the space in the top right corner above your photo.
8. Finally, select three flower stickers from Cloud 9 Sorbet Villa Elements stickers. Place one in the top left corner and the other two towards the bottom right corner of your first horizontal photo, as shown in the layout above.
What do you think? Do you like this scrapbooking idea? Do you have any questions? Would you have done anything different? We'd love to hear from you! Please leave a comment below.