Dog stickers are the perfect embellishments for layouts of our much-loved pets. Our pets are a part of our families and deserve a special place in our scrapbooking albums. They are absolutely adorable, super cute and very cuddly, so why not reflect that in your choice of embellishments?
Click Here To View Our Full Range Of Dog Stickers
Dog stickers allow you to create cute pages of your pets quickly and easily. For example, in this layout stickers were used around the edges of the page to add a sense of fun and draw your eye to the central photos.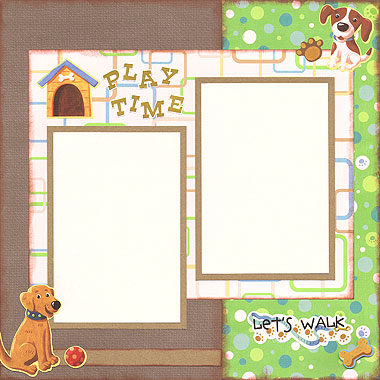 Materials Used: Patchwork Cocoa Brown Burlap paper (for the background), American Traditional Green Paw Prints paper, Retro Squares paper, brown cardstock, cream cardstock, white cardstock, brown ink, foam tape, gold alphabet stickers and American Traditional Puppy Dog Walk stickers.
But of course, there is more to creating an album of your favourite furry animals than just your choice of stickers.
First you need to decide what you would like to include in your albums. I'm sure you have lots of just generally cute photos to choose from but you may also like to focus on specific themes or events like:
The day you first got your dog
Your dog's first bath
Mischievous things your dog does or has done (like chewing your favourite slippers)
How you chose your dog's name
Taking your dog for a walk
Your dog's favourite toys
Games you play with your dog
The relationship between your dog and your children (do they snuggle up together?)
Your dog at Christmas
Your dog at the beach
Things you love about your dog
Your dog's paw prints
The list is endless, but hopefully there are some ideas there to help get your started.
Once you've decided on your theme, you can get scrapping. Select your papers, cardstock, stickers and any other embellishments you want to use and start designing your layout. Don't forget to include plenty of room for journaling – I'm sure you have lots of wonderful stories to tell about your dog.
Keep in mind that when you are selecting your dog stickers, there are two main types to choose from. The first are cute graphic stickers like those used in the layout above. They are perfect for setting the tone of your page and capturing your dog's fun and playful nature.
But, if you want to create a more subdued or formal layout, you may prefer instead to rely on title and quote dog stickers. These are more subtle and allow you to express your emotions in words without worrying about a lot of journaling.
Examples of quotes that may be found on dog stickers include:
"My goal in life is to become as wonderful as my dog thinks I am." – Toby & Eileen Green
"Whoever said you can't buy happiness forgot little puppies" – Gene Hill
"A dog has the soul of a philosopher" – Plato
Whatever your style and choice of dog stickers, we have you covered.
Click Here To View Our Full Range Of Dog Stickers
I'd love to hear your thoughts and ideas for using dog stickers on your layouts. Please leave a comment in the comments box below.