Sticko stickers remain a favourite amongst scrapbookers all over the world, and their new line of puffy stickers is no different. Their miniature designs make them so cute and their puffy nature really make them pop and give dimension to your scrapbooking pages and cards.
Click Here To View Our Full Range Of Sticko Stickers
There's lots of different designs to choose from to give your pages that special touch and there are so many different ways to scrap with them.
One page I absolutely love, is this layout that I found on Sticko's official website: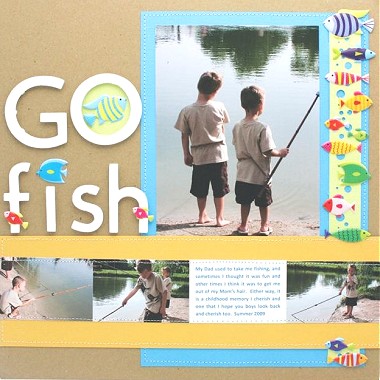 Artist: Nicole Ratzlaff
This layout uses Puffy Fish stickers to create a unique border down the ride side of the page. The artist has used a simple strip of green cardstock as the base for her border, punched holes in it to create a bubble effect and strategically placed fish stickers all the way down for a completely unique look.
She's also very cleverly incorporated several fish stickers into her title, again creating a one-of-a-kind embellishment for her page.
Of course, you don't have to use only fish stickers to re-create this effect. Any small stickers will do. Just choose the theme you want to work with and have some fun.
Click Here To View Our Full Range Of Sticko Stickers
I'd love to hear what you think of these Sticko stickers ideas. Please leave a comment in the comments box below.