Last week my Mum attempted her very first scrapbooking layout. Thank you so much to everyone for all of your kind words and encouragement. They really mean a lot to both her and me.
Mum has now taken her second step on her scrapbooking journey and I wanted to share it with you too (call it Proud-Daughter Syndrome!). So here it is…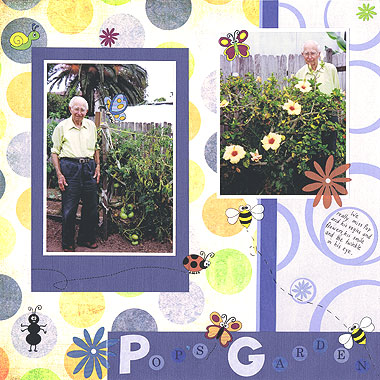 She created this scrapbooking layout using Basic Grey Jackson Oh Baby Boy paper, Pebbles Inc Winter Circles/Stripe paper, dark blue cardstock, white cardstock, a black pen, blue alphabet stickers and Piggy Tales Flowers & Bugs Rub-Ons.
Click Here To View Our Range Of Rub-Ons
Mum saw our new Piggy Tales Flowers & Bugs Rub-Ons and thought they would be perfect for a garden layout. This layout shows my grandfather at one of the things he did best – tending to his garden.
Mum had never used rub-ons before, but thought she'd give them a go. She soon realised how simple they are to use and I love what she has done with them. I thought the way she used the circles in the background paper to emphasise some of the rub-ons (like the ant in the bottom left corner) was very clever and the ladybug footprints across the bottom of one of the photos is so cute!
Once again, I am so very proud of her! Please continue to help me encourage her to scrap by leaving a comment below.
Thank you so much!