Doodlebug stickers are among my favourite types of stickers. They are always playful and fun, but sometimes they can also be adapted to suit more sophisticated and elegant layouts. On this layout I have used bright pink and red romance stickers from Doodlebug and combined them with muted tones and flourish rub-ons to create a more formal and stylish look.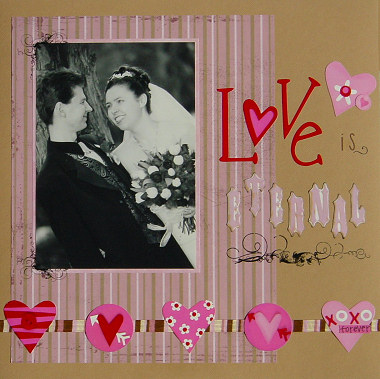 This layout was created using brown Bazzil cardstock, pink patterned paper from Scrapbooking Memories magazine, pink cardstock, ribbon, Creative Imaginations Pink Alphabet stickers, Junkitz Alphabet Rub-ons, Basic Grey Flourishes Rub-ons, dark brown ink and Doodlebug Designs Sweet Things stickers.
Click Here To View Doodlebug Designs Sweet Things Stickers
To recreate this scrapbook page idea, follow these steps:
1. Use the brown Bazzil cardstock as your background.
2. Cut a piece of pink patterned paper measuring approximately 21cm by 27.5cm. Adhere vertically to the left side of your page, as shown in the layout above.
3. Mat a vertical 5×7 photo with pink cardstock. Adhere to your page approximately 3.5cm from the top edge and 3cm from the left edge.
4. Glue a piece of ribbon across the bottom of your page about 3.5cm above the bottom edge.
5. Select three heart-shaped stickers and two circular stickers from your Doodlebug Designs Sweet Things stickers. Adhere them along your ribbon equal distances apart, as shown in the layout above.
6. Place the letters of the word 'Love' from Doodlebug Designs Sweet Things stickers to the right of your photo.
7. Use Junkitz brown alphabet rub-ons to write the word 'is' to the right of the word 'Love' from the previous step.
8. Create the last word of your title with Creative Imaginations pink alphabet stickers. Mat each letter with white cardstock and ink the edges with dark brown ink to make them stand out. When dry, glue to your layout below the first two words of your title.
9. Adhere two pink heart stickers in the top left corner of your title area, as shown in the layout above.
10. Finally, finish off your page with Basic Grey Flourishes Rub-ons. I have placed a rub-on on the top and bottom left corners of the photo. I also placed a long rub-on below my title and embellished with a few extra swirls. Play with the combinations and see what you come up with!
What do you think? Do you like this Doodlebug scrapbooking idea? Do you have any questions? Would you have done anything different? We'd love to hear from you! Please leave a comment below.