Sandylion stickers have been around for as long as I can remember. I loved them as a kid and in fact, I had sticker albums full of them. And since I started scrapbooking, I just can't get enough of them. There are just so many gorgeous designs to choose from and they always give my scrapbook layouts that extra special touch.
This week I created a brand new layout with one of their most adorable stickers – their Precious Moments Farm Animals stickers.
Click Here To View Our Range Of Sandylion Stickers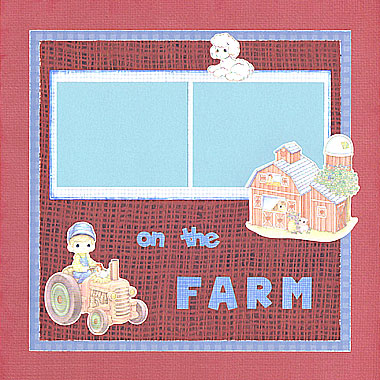 Materials Used: Patchwork CranApple Red Burlap paper, Sandylion Burlap paper, Paper Garden Speckle Plaid – Periwinkle paper, Colorbok Sue's Blue Plaid paper, blue cardstock, cream cardstock, blue ink, red ink, a blue pen, blue alphabet stickers and Sandylion Precious Moments Farm Animals stickers.
This layout was fairly quick and easy to make. It's charm lies in the combination of rich colours and the cute accents provided by my Sandylion stickers.
If you would like to try re-creating this layout, there are a couple of techniques you might like to include:
1.    I matted my stickers on cream cardstock. These particular Sandylion stickers have a clear background. By sticking them on cream cardstock and then cutting them out, I gave them a thin cream border. This helps them stand out from my page and adds a sense of warmth that really captures your attention and draws you in.
2.    If you look at the large squares that form most of the background, you will notice that they have white edges. To create this effect, I ran the edge of my scissors along each side. This strips some of the colour off your paper and gives it a white edge. It's a great way to quickly add texture and interest to your scrapbooking layouts.
3.    When I placed the piece of blue and white plaid paper on my page, I felt it looked a bit flat. It was missing something. I didn't really want to mat it, but I wanted to make it look more interesting. So, I inked the edges with blue ink to give and used a blue pen to draw in a border. This helps it stand out from my page and focus attention on the area where the photos are to go.
I hope you'll give try these techniques on your own scrapbooking layouts. I use them all the time – especially matting my stickers. I always find that matting stickers makes them that little bit extra special. It draws attention to them and helps you set the scene for your all-important photos.
Click Here To View Our Range Of Sandylion Stickers
I'd love to hear your thoughts and ideas for using Sandylion stickers on your layouts and what you think of this page. Please leave a comment in the comments box below.