Super puffy stickers from kawaii brands like Kamio are perfect for adding that extra special touch to your handmade cards. They are not only amazingly cute, they also give amazing dimension to your cards and really make them pop. Some of them are even decorated with rhinestones!
Click Here To View Our Full Range Of Super Puffy Kawaii Stickers
I was very excited to get crafting with these beautiful stickers so I made this cute birthday card: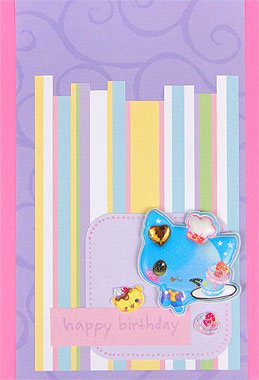 Materials Used: Pink cardstock, scrapbooking papers by Provo Craft, light purple cardstock, light pink cardstock, pink glitter gel pen, 'Happy Birthday' stamp, purple ink and Kamio Super Puffy Animals & Sweets Kawaii stickers.
I chose a blue cat sticker as my centrepiece. He is carrying a plate of macaroons and features a heart-shaped rhinestone near his left ear. Does it get any cuter?
He is also extra puffy for that extra special touch. He's about 5mm thick, giving great depth and dimension to my card.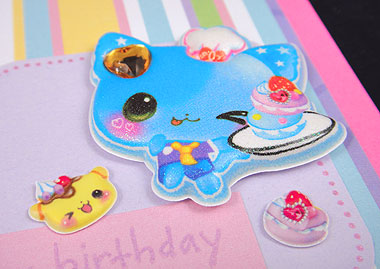 With such a dominant embellishment, you do need to anchor him to your page. And by anchor, I don't mean how you attach him – he's an ordinary sticker you just stick down as normal. However, your card design needs to include other elements to support him so that he doesn't look out of place.
It comes down to weight distribution. Thanks to gravity, we all expect heavy things to be at the bottom and for extra heavy things to have other elements to support them. Keep this in mind when creating your own cards.
In this card, I have a big, heavy embellishment. So, I have placed him in the bottom right corner of my card. This places the weight of my design at the bottom of my card – where you would expect it to be.
I have also added an extra element to support that weight – the light purple square behind my embellishment.
Balance is another important element of design that is closely tied with weight distribution. Think about a table with one leg in the centre to support it. A table is designed to take some weight being placed on it. However, if you keep putting weight on just one corner of the table, it will eventually fall over. If, instead, you distribute that weight around the table, it will remain sturdy and balanced.
The same principle applies with card design. If you have a heavy element in one corner, you need to add extra elements to give it balance.
In this card, my super puffy sticker is positioned towards the top right corner of the purple square. To balance this out, I have placed my 'Happy Birthday' sentiment in the bottom left corner of the purple square. This distributes the weight of my design between the two opposing corners.
However, due to the dominant nature of my super puffy sticker, just doing this was not quite enough. So, I added two much smaller, less dominant stickers, one on either side of my large sticker. This did the trick … and made my card even cuter!
Click Here To View Our Full Range Of Super Puffy Kawaii Stickers
I hope this card idea has helped give you an insight into how I make cards and some of the important elements that make up a great card design. I'd love to hear what you think of my Kawaii Card Idea. Please leave a comment in the comments box below.