With the kids heading back to school this week, I thought I would make a fun, easy to create school-themed scrapbooking layout for you. It's perfect for capturing your child's school memories like their first day at school, their classroom activities or pictures of their favourite teacher.
To create this page, I used our School Borders stickers from Sandylion.
Click Here To View Our Sandylion School Borders Stickers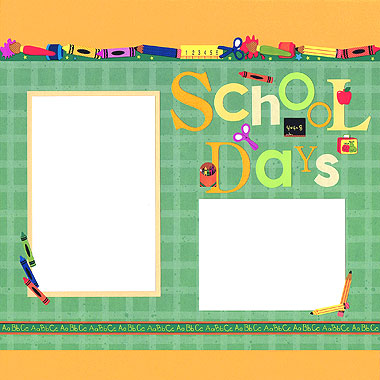 Materials Used: Orange cardstock, green plaid paper by Paper Garden, light orange cardstock, cream cardstock, a selection of alphabet stickers from Doodlebug Designs and Making Memories and Sandylion School Borders stickers.
To create a layout like this, first you need to set the scene by creating a backdrop for your photos. To do this, I cut a piece of green plaid paper approximately 22cm tall and glued it across the middle of my page. I then added my border stickers.
I placed the school supplies border stickers along the top edge of my green paper. Since the top of the border sticker is not a straight edge, it added interest and a sense of fun to my design.
I then placed the alphabet border sticker towards the bottom of my green paper to anchor my design.
Next came the photo blocks. I added a vertical photo block on the left side of the page. Because I wanted this photo to be the focus of my page, I double-matted it. I also added a second, smaller photo block on the right side of the page for a smaller photo. Alternatively, this could be used for journaling.
I also added small accents to the corners of my photo blocks – some crayon stickers in the bottom left corner of my main photo and some pencil stickers in the bottom right corner of my small photo. They add interest to your page and help the photos blend in with the rest of the design.
And now the fun part – the title. To create the title, I used a selection of different coloured and different sized alphabet stickers. I then used the accent stickers that came with my border stickers to highlight and decorate my title. As a result, I not only have a cute title, but one that reflects the theme of my page.
Our Sandylion School Borders were the inspiration for this page. I had a lot of fun scrapping with them. I hope you will too.
Click Here To View Our Sandylion School Borders Stickers
I'd love to hear what you think of my School Days Scrapbooking Idea. Please leave a comment in the comments box below.