Yesterday we celebrated my Dad's birthday. We had a wonderful family day with yummy food (I made a salmon quiche) and good company. And, of course, for the occasion, I made my Dad a cute birthday card.
Birthday cards do not always have to feature birthday icons like candles or presents. You can also use characters or images that reflect the personality and interests of the recipient. On my birthday card, I used a cute ant image from our cute range of animal rub-ons.
Click Here To View Our Full Range Of Animal Rub-Ons
This card was very quick and easy to create…and is easily adapted to suit any colour scheme and style: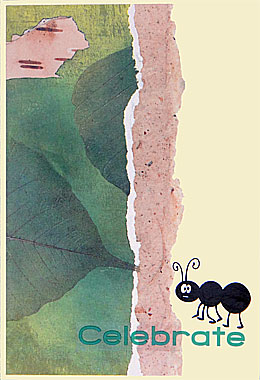 Materials Used: Cream cardstock, green background sticker from Karen Foster, 'Celebrate' sticker from American Traditional Designs and ant rub-on from Piggy Tales Flowers & Bugs Rub-Ons.
The background is a sticker from Karen Foster. However, it could easily be recreated in your own patterns and colours using a selection of patterned papers. All you need to do is tear down one side and then layer your papers to create a similar effect.
Similarly, you can create the sentiment however you wish. I have used a sticker with a clear backing. You could also stamp the image, use alphabet stickers or even mat a sticker with cardstock or patterned paper for a more unique look.
For the final touch, choose a character or image you (and your recipient) like and position it above your sentiment. This gives your card personality while focusing attention on your message.
And you're done. It really is that easy. And, it's a great way to make a card for a guy without have to resort to the stereotypical images like fishing, golf, bow ties and the like. All you need is a cute image like the ant I have used from our range of animal rub-ons
Click Here To View Our Full Range Of Animal Rub-Ons
I hope you find card idea useful and easy to adapt to your own card making projects. I'd love to hear what you think of my Birthday Card Idea. Please leave a comment in the comments box below.