Posted on February 5, 2014 by Jennifer Gormly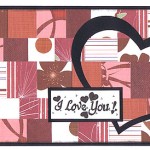 Valentine's Day is just around the corner and romance is in the air. To celebrate, I thought I would create a unique Valentine's Day card for you.
Continue Reading - Valentine's Day Card Idea
Posted on June 11, 2012 by Jennifer Gormly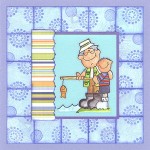 There's one thing I really love about winter – it's a great time to catch up on some card making time. And that's exactly what I did over this past long weekend. So today I thought I would share one of my latest creations with you. I used one of our popular family stickers as [...]
Continue Reading - Grandpa Card Making Ideas
Posted on November 25, 2009 by Jennifer Gormly

Making Christmas cards are a great way to use up your left over scraps and Christmas stickers while creating personalised greetings for your loved ones.
Continue Reading - Making Christmas Cards