Posted on July 20, 2011 by Jennifer Gormly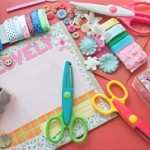 When you begin a scrapbooking project, do you fumble hopelessly about in search of certain supplies? Or, worse yet, do you choose to not even start your scrapbooking project for the sheer inconvenience of having to dig through all your stuff to find what you need?
Continue Reading - 3 Steps to Organised Scrapbooking
Posted on May 22, 2010 by Jennifer Gormly

Finding time to devote to your scrapbooking albums can be a struggle, even for the most devoted scrapper. We all get caught up in the whirlwind of life. There's always something to take attention away from our craft.
Continue Reading - Time Saving Tips For Scrapbooking