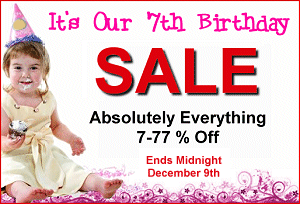 Our 7th birthday sale has finally arrived and I am so excited, I can't wait to tell you all about it! We have spent many days making sure this is the best sale you have seen this year! In fact, it's our biggest sale of the year and we have incredible savings for you.
Absolutely everything in store has been reduced!
Yes, that's all 2104 stickers, rub-ons, papers and other scrapbooking supplies discounted by a massive 7-77% off! So if there is something you have your eye on, now is the best time to snap it up! We have literally gone insane with our prices.
Want to see what I mean?
Start Shopping Now at:
http://www.stickersnfun.com/shop/sale/
Here are just a handful of examples of our insanity:
Heartwarming's Scrapbooking Bug stickers are 44% off at only $2.50.
Bo Bunny's Christmas Tag stickers are 50% off at only $2.50.
NRN Designs Puppy Dog stickers are 62% off at only $1.50.
All American Traditional Number stickers are 77% off at only 34c!
And that's just the beginning!
It's the perfect time to grab a bargain and buy some Christmas gifts for your friends or simply spoil yourself. There are huge savings everywhere so make sure you don't miss out.
Start Shopping Now at:
http://www.stickersnfun.com/shop/sale/
But that's not all! It may be our birthday, but we just love giving away presents. So from now until the end of our birthday sale, everyone who places an order over $60.00 (not including postage) will receive a set of 6 unique Christmas Time Cut-Outs valued at $8.97 absolutely F.REE.
These gorgeous designs are exclusive to Stickers 'N' Fun and cannot be bought anywhere so get in quick. Once our sale is over, they will never be available again.
Use them as stylish additions to your Christmas layouts or to decorate your Christmas cards. Their versatility and unique designs make them perfect embellishments for all your Christmas projects.
To get your F.REE set of Christmas Magic Cut-Outs, start shopping now at:
http://www.stickersnfun.com/shop/sale/
But get in quick. Our 7th Birthday Sale is for a limited time only.
It ends at midnight (NSW time) on Thursday, 9th December 2010. But remember, many items only have 1 or 2 left in stock as we do not expect them to last. Please place your order as soon as possible to avoid missing out on your favourites.
And don't forget, all sticker orders over $50.00 will be shipped for f.ree within Australia.
Start Shopping Now at:
http://www.stickersnfun.com/shop/sale/