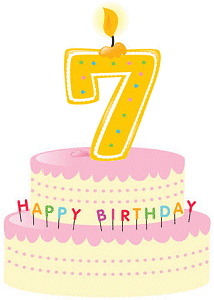 Guess what! It's almost time to celebrate our 7th birthday here at Stickers 'N' Fun and we are so excited because that means it's almost time for our annual sale!
If you've ever seen one of our sales before, you will know they are absolutely HUGE with big savings and giveaways!
I have to admit, we do tend to go a bit insane at sale time. We can't help it. Something just happens when we go into party mode – we go crazy and we celebrate by giving you lots of savings. At last year's sale, 259 products completely sold out within just a few days and we were packing orders until the wee hours of the morning. I'm sure there were lots of scrapbooking presents underneath your Christmas trees last year!
This really is a sale you won't want to miss!
Absolutely everything in stock will be 7% to a whopping 77% off (it is our 7th birthday after all)!
It has been an incredible 7 years and this is our way of saying thank you so much for all your support along the way. We wouldn't be here without you and we can't express enough how much we appreciate each and every one of you.
Our sale will start early Thursday morning (2nd December 2010). Make sure you check your email and this blog for the announcement!
And please, don't forget to tell your scrapbooking friends on facebook so they can share in the party too!