Posted on February 13, 2013 by Jennifer Gormly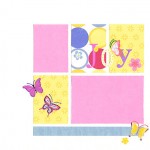 Sticko stickers are great for scrapbooking. They are so easy to use, they always look fabulous and there are always so many styles and themes to choose from. So this week, I chose one of my favourite butterfly designs and created a brand new scrapbooking layout.
Continue Reading - Scrapbooking With Sticko Stickers
Posted on October 20, 2009 by Jennifer Gormly

Butterfly stickers are probably my all time favourite type of stickers. My albums are literally full of them. I just can't help it! They are so pretty! And there are so many designs and styles to choose from!
Continue Reading - Butterfly Stickers
Posted on June 25, 2009 by Jennifer Gormly

Newport Scenic Route Paper offers a richness of colour that brings your layouts to life. In this layout I have used three Scenic Route papers from the Newport collection, but you could easily re-create this design with any of your favourite papers.
Continue Reading - Newport Scenic Route Paper