Posted on February 5, 2014 by Jennifer Gormly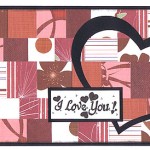 Valentine's Day is just around the corner and romance is in the air. To celebrate, I thought I would create a unique Valentine's Day card for you.
Continue Reading - Valentine's Day Card Idea
Posted on April 20, 2011 by Jennifer Gormly

How adorable are our new House Mouse stickers! They are just so cute! I couldn't resist playing them so I thought I would share one of my creations with you.
Continue Reading - House Mouse Stickers