Posted on February 28, 2013 by Jennifer Gormly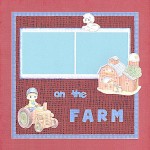 Sandylion stickers have been around for as long as I can remember. I loved them as a kid and in fact, I had sticker albums full of them. And since I started scrapbooking, I just can't get enough of them. There are just so many gorgeous designs to choose from and they always give my [...]
Continue Reading - Scrapbooking With Sandylion Stickers
Posted on November 3, 2009 by Jennifer Gormly

With Christmas just around the corner, it's a great time to catch up on all those Christmas layouts you haven't quite gotten around to yet or even prepare some scrapbooking pages in advance for this years photos.
Continue Reading - Christmas Stickers
Posted on April 22, 2009 by Jennifer Gormly

When our new range of Precious Moments stickers arrived in store, I couldn't wait to get my hands on them. They are so adorable. I just had to get scrapping. And so I did! I chose the Precious Moments Graduation Girl stickers and created this simple but pretty scrapbooking layout.
Continue Reading - Precious Moments Stickers