With Christmas just around the corner, it's a great time to catch up on all those Christmas layouts you haven't quite gotten around to yet or even prepare some scrapbooking pages in advance for this years photos. Summer is always busy and I take so many photos at Christmas that having some layouts ready to go can be a real blessing and save me a lot of time.
Something else that saves me a lot of time is Christmas stickers. They come in so many different styles from super cute to ultra chic so you can whip up a page in any style you want with ease.
Click Here To View Our Full Range Of Christmas Stickers
This gorgeous layout was created using some fun Christmas papers and cute Precious Moments Christmas stickers from Sandylion. It's a very quick page to put together but has some unique touches to make it extra special.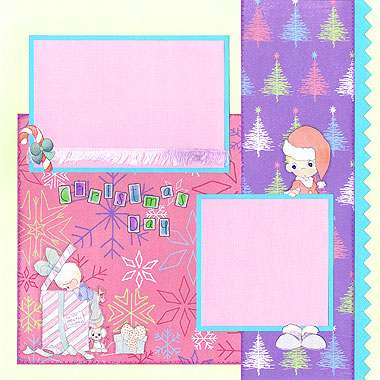 Materials Used: Light green Bazzill cardstock (for the background), Imagination Project First Frost paper, Imagination Project Aluminium Trees paper, pink cardstock, blue Bazzill cardstock, pastel fibre, a purple pen, a purple ink pad, Doodlebug Alphabet stickers and Sandylion Precious Moments Christmas stickers.
Some of those extra special touches include:
1. I like to give distinction to the edges of my patterned papers. It gives my pages a sense of dimension. In this layout I have lightly inked the edges of both patterned papers with purple ink and then draw a dotted border with a purple pen.
2. I cut a decorative edge from blue Bazzill cardstock to add a sense of fun to my layout. Decorative edges can easily be created using a template, punches or decorative edge scissors.
3. I place a piece of fibre across my main photo to draw attention to is and add some texture to my page. I also accented it with a Candy Cane Christmas sticker.
4. Alphabet stickers were used to create an effective title quickly.
5. I cut my Santa Christmas sticker so that I could place the top half peering over the top of the photo. I then cut out the boots so they could stick out the bottom. It's a really cute way to use Christmas stickers for that extra special touch on your layouts.
Christmas stickers are a great way to dress up your Christmas pages, especially if you have a lot of Christmas projects to complete. And, of course, they are also great for making Christmas cards, gift tags and gifts.
Click Here To View Our Full Range Of Christmas Stickers
I'd love to hear your thoughts and ideas for using Christmas stickers on your layouts. Please leave a comment in the comments box below.