Posted on February 5, 2014 by Jennifer Gormly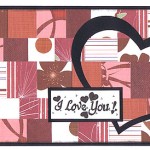 Valentine's Day is just around the corner and romance is in the air. To celebrate, I thought I would create a unique Valentine's Day card for you.
Continue Reading - Valentine's Day Card Idea
Posted on February 19, 2009 by Jennifer Gormly

Today I wanted to share with you one of my free card making ideas that I sent to my Card Making Classroom subscribers. What is Card Making Classroom? It's a free newsletter that I send every week through email featuring card making classes like this one.
Continue Reading - Free Card Making Ideas