My Mum seems to be well and truly bitten by the scrapbooking bug. This week she taken another step on her scrapbooking journey and created her third layout using stickers from our new range of Stickopotamus stickers.
Click Here To View Our Range Of Stickopotamus Stickers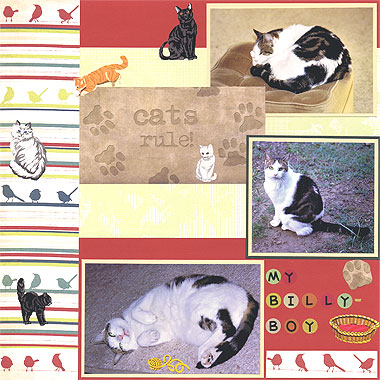 She created this scrapbooking layout using Red Bazzill cardstock, Kaisercraft Bird Song Flutter paper, Kaisercraft Everblooming Blooming paper, Karen Foster Cat Tracks paper, cream cardstock, dark green cardstock, American Traditional Alphabet stickers and Stickopotamus Cat Craze stickers.
Click Here To View Our Range Of Stickopotamus Stickers
This layout features Billy – my Mum's cat. Unfortunately Billy is no longer with us, but Mum certainly has plenty of photos to remember him by. I can see a whole cat album coming! Lol.
Mum has been quite clever in the way she has incorporated the cat stickers and bird paper into her page. Did you notice the orange cat pouncing on a bird towards the top left corner of the page? So cute!
Once again, I am so very proud of her! She created this page with very little help from me and is well on her way to becoming completely hooked on scrapbooking. Please help me continue to encourage her by leaving a comment below.
Thank you so much!
What do you think? Do you like this scrapbooking idea? Do you have any questions? Would you have done anything different? We'd love to hear from you! Please leave a comment below.