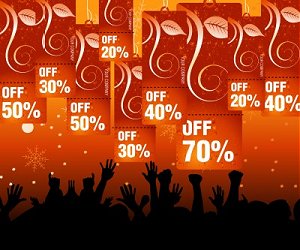 It's that time of year again! It's almost our 6th birthday! Which means it's almost time for our next BIG sale!
If you have seen one of our birthday sales before, you know we go a bit loopy. We can't help it. Something just happens when we go into party mode – we go crazy and we celebrate by giving you lots of savings. Last year we reduced our stickers, rub-ons and other scrapbooking products by up to 85% off and you sure did have some fun with them! We sold out of 319 products in just a few short days and were packing orders for hours and hours. I think there were lots of scrapbooking presents underneath the Christmas tree last year!
This year we have reached another special milestone – we are 6 years old! I can hardly believe it. It's been an amazing 6 years and we want to thank you so much for your support along the way. We can't begin to tell you how much we appreciate each and every one of you.
And to thank you for all of your support, we want to do something special for you. So as part of our birthday celebrations…
YOU get to decide what we put on sale!!!
Just like last year, we are asking you what you want to see reduced. So, if there is a product or a range of products that you have had your eye on (perhaps some cute stickers, some stylish rub-ons or a fun paper), now is the time to speak up and tell us and we will reduce it during our sale.
Last year we had all sorts of requests and we responded to each and every one of them. For example, when asked to reduce our Basic Grey stickers, we reduced the whole range by 20%. And when asked to reduce our diamond folding template, we reduced it by 35%.
So now is your chance to get exactly what you WANT on sale. You are in control!
There is just one condition – All you need to do is leave us a message telling us what you want us to put on in the comment box at the bottom of this page.
It's that easy! Just scroll down and leave a message. But make sure you leave your message before midnight on Wednesday, 2nd December, 2009.
And please invite your friends to leave a message too, so that they can save on all of their favourite products too.
We will be reading all your messages.
Thank you again for all your support. Please stay tuned for more information on our big birthday bash!
And don't forget to leave a comment in the box below:
*******************************
Update:
Thank you to everyone for your amazing responses. We will be responding to each and every one of them by discounting the items you ask for for the duration of our 6th birthday sale.
For example:
1. There has been an overwhelming request for rub-ons to go on sale so we will be reducing the ENTIRE range of rub-ons for you, even the Royal Brush rub-ons that only came in two weeks ago!
PLUS, I'm going to do something a little extra special for you. A new range of Daisy Bucket Rub-Ons has just arrived. I was going to save them until after our sale, but since so many of you have been asking for rub-ons, I will not only put them online for you but I will put them ON SPECIAL as well!
2. Gail has asked us to reduce Heartwarming stickers and cut-outs, so we will be reducing the whole Heartwarming range by 20%.
3. Val has asked us to reduce Basic Grey items, so we will be reducing all Basic Grey paper packs by at least 20%.
4. Mary-Ellen Schneider has asked us to reduce We R Memory Keepers, so we will be reducing the entire We R Memory Keepers Paper Pack range to just $3.97 (that's less that $1.00 per sheet of paper!).
5. Mary-Ellen Dancer has asked for alphabet letters, so we will be reducing our entire range of alphabet stickers. For example, Pebbles Inc Alphabets will be reduced by 30%. That means Pebbles Inc alphabets that were $6.50 will be only $4.55 and Pebbles Inc alphabets that were $4.50 will be only $3.15!
And that's just the beginning!
It's our way of thanking you to you for all your support over the last six years and it's your chance to have your say and save big on the items you truly want.
But be quick. Our 6th birthday sale will start on Thursday, 3rd December 2009 so your requests have to be in by midnight on Wednesday, 2nd December 2009.
Just leave us a message in the comment box below and tell us what you want us to put on sale!