Flower stickers are fabulous for creating spectacular scrapbooking layouts with ease. Often the most effective layouts are the most simple but it takes that extra little something to add an edge of sophistication. And that's where your flower stickers come in. They are easy to arrange and apply and give your scrapbook layout a sense of style.
In this layout, I have used flower stickers from Magenta, but any floral stickers can be used to create the came effect.
Click Here To View Our Range Of Flower Stickers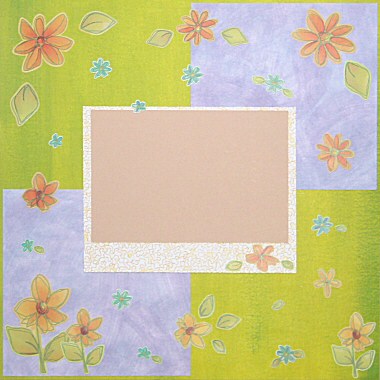 This layout was created using green patterned paper (brand unknown), Creative Imaginations Hydrangea Wash paper, Creative Imaginations Yellow Squiggle paper, tan cardstock and Magenta Joyful Flowers stickers.
The key to this layout is the colour combinations. The bright green background was a bit much in itself, but was softened by the two squares of purple paper in opposite corners.
To recreate this scrapbook page idea, follow these steps:
1. Use the green patterned paper as your background.
2. Cut out two squares of Creative Imaginations Hydrangea Wash paper measuring a little less than 6" by 6". Glue one in the top right corner of your scrapbooking page and the other in the bottom left corner. Make sure you leave a small green border around the edges of each.
3. Mat a vertical 4×6 photo with tan cardstock. Mat again with Creative Imaginations Yellow Squiggle paper, making sure the squiggle paper is significantly longer than the cardstock, as shown above. This adds interest and helps balance the symmetry of the page.
4. Finally, place your flower stickers all around the page. If any of your flower stickers have stems, try to place them towards the bottom of the page to make them look more grounded.
While this is a quick, simple way to dress up a page it is quite effective. Flower stickers add joy to your pages and can be a lot of fun. Don't be afraid to play with unusual colour combinations either. They add interest to your albums as well as providing an endless stream of possibilities to play with.
What do you think? Do you like this flower stickers scrapbooking ideas? Do you have any questions? Would you have done anything different? We'd love to hear from you! Please leave a comment below.