Posted on February 5, 2013 by Jennifer Gormly
This week we have a brand new range of kawaii stickers from Crux Japan, so I thought I would have some fun and use some of them to make a cute little cat-themed card. To make my card I chose to use puffy cat stickers. They were perfect for my project as they are absolutely adorable and give your cards great dimension and texture.
Click Here To View Our Full Range Of Crux Kawaii Stickers
I titled my card 'Have a Purrfect Day' and here it is: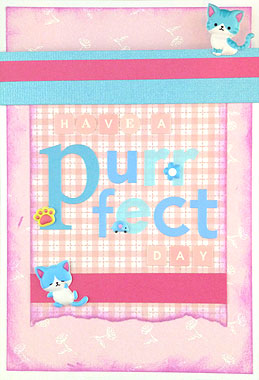 I didn't make this card with anyone in particular in mind. I just wanted to make something bright, colourful and happy…something that would make you smile.
The design itself is fairly simple and easy to recreate. I did add one very special touch though. If you look closely, you will see that I have removed part of the front of the card and the pink background you see above the blue strip is actually on the inside of the card.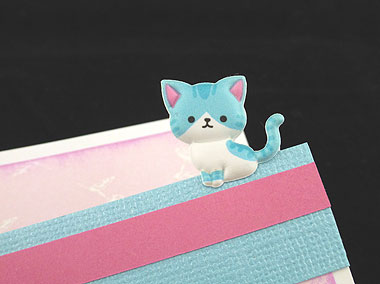 The blue stripe creates a nice division between the front of the card and the inside and helps my little blue cat stand out. I hope you like it!
Click Here To View Our Full Range Of Crux Kawaii Stickers
I'd love to hear what you think of our new kawaii stickers. Please leave a comment in the comments box below.
Related Posts:
This entry was posted on Tuesday, February 5th, 2013 at 9:14 pm and is filed under Animals, Card Making, Kawaii Stickers. You can follow any responses to this entry through the RSS 2.0 feed. You can leave a response, or trackback from your own site.
Comments