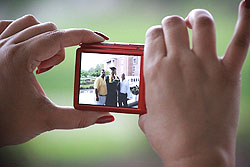 Improving your skills as a photographer is simple if you understand a few basic concepts. While many high end cameras have additional features to assist you in taking a spectacular photograph, you do not need to have a camera with a all the bells and whistles to be able to capture a beautiful photo. In fact, even the best camera with all of the best features is useless if you do not understand the correct way to use it. So instead, put your efforts into understanding a few basic photography principles like the use of motion and light and your photographs will quickly improve without the need to purchase a new camera.
Motion:
When you are trying to photograph a subject that is not in motion, it is important that you do not simply focus on that subject and ignore its surroundings. Make sure that you are paying attention to the background as well to ensure that there are not other objects that are moving in the area, like cars in motion or dogs running around, as they may cause blurriness in your photograph.
Similarly, if you are trying to capture a subject that is in motion, be sure to take several photographs from the beginning of the motion through the finish. By capturing the entire motion sequence, you increase your chances of taking a quality photograph.
 
Many photographers become so focused on capturing a particular subject that they mistakenly forget to check what is going on around that subject that might influence the final image. Make sure that's not you by looking in every area of the photograph and being aware of how the background of your image will appear.
Do not be afraid to get close and zoom in on your subject either. This will limit the amount of distractions in the background of your shot and allow you to focus more on your subject.
Light:
If you have ever tried to take a photo on a cloudy day or outside at night you may have run into the issue of the subject of the photograph not appearing in your image the way that you would like it to. If this has happened to you, you may need to find a way to increase the available lighting for your photograph to ensure that your subject will be seen clearly in your image. Many cameras come with varying exposure and flash options that can be easily adjusted to account for the different times of day and lighting conditions. Have a quick look though your camera manual to see what options are available to you.
 
Having the ability to take a memorable photograph does not necessarily require a specialised skill set or a camera that costs thousands of dollars. By making a few simple adjustments and gaining some knowledge about general photography principles such as those mentioned above, you can quickly increase your capability to take an impressive and high quality photograph to remember your special memories.