I'm so excited to share this very special page from Rhonda Goldfuss with you. Rhonda created this fun train scrapbooking idea for photos of her grandson, a big fan of Thomas the Tank Engine and train shows. I love the train across the middle, but the main feature is the cool shaker box in the top right corner.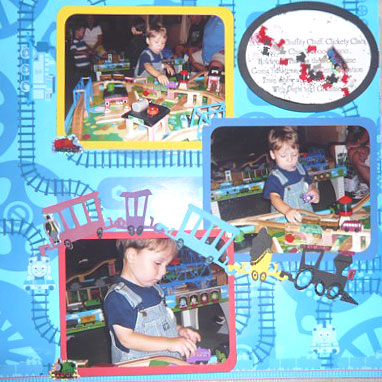 Here's what Rhonda had to say about her awesome shaker box:
After a few failed attempts using foam strips and dots and squares, I decided to try my hand at something else. I used a piece of foam board and using CM's oval cutters, I cut one oval of black paper and one white that I had journalled on. I used a smaller oval cutter to cut the inside of the black oval out to give me my framework. I then used the oval cutter to score the foam board as it would not cut all the way through. I had to hand-cut the rest of it with an x-acto knife. I then scored the inside with an oval cutter to make a frame of the foam board.
I then glued the cut foam board to my white journalled oval. When it was thoroughly dry, I inserted my glitter, small trains punched with a train punch and a few Thomas emblems. I then carefully glued a piece of clear transparency, also cut with the CM oval cutter to the top of the oval frame foam board. I then placed the oval black frame over the transparency careful to line it up and glued that in place.
You must wait until it is dry before moving or else the shaker ingredients stick where the glue is still moist.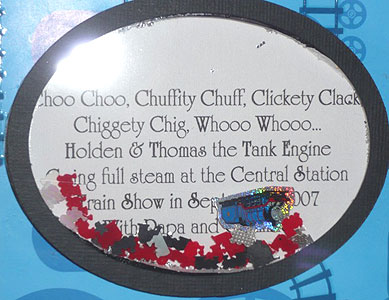 Thank you so much for sharing this with us Rhonda! Please let Rhonda know what you think of her train scrapbooking idea by leaving a comment below.