Posted on February 19, 2014 by Jennifer Gormly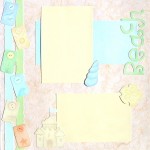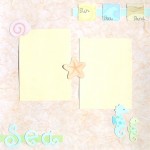 Now that the kids are back at school, it's a great time to catch up on scrapbooking those wonderful summer memories. And since trips to the beach are almost an essential part of an Australian summer, I thought I would start with a fun beach scrapbooking idea.
Continue Reading - Day At The Beach Scrapbooking Idea
Posted on July 4, 2010 by Jennifer Gormly

When I saw the new Paradise Found stickers by Moxxie, I just knew I had to scrap something with them. The tropical icons like palm trees and hibiscus flowers that feature on these stickers are matched with distinctive, bright colours for a stylish and unique look.
Continue Reading - Moxxie Stickers
Posted on November 11, 2008 by Jennifer Gormly

Lately I have been scrapping a lot of my photos from a trip my husband and I took to Coffs Harbour a few years ago and as a result, I have been playing around with all sorts of beach scrapbooking ideas.
Continue Reading - Beach Scrapbooking Ideas
Posted on April 9, 2008 by Jennifer Gormly

Some scrapbooking ideas are easier to come up with than others. On this layout I wanted to challenge myself and show off these gorgeous photos from our honeymoon in Tahiti. But how do you create a stunning page without taking attention away from photos of paradise?
Continue Reading - Paradise Scrapbooking Ideas
Posted on March 9, 2008 by Jennifer Gormly

The successful combination of beach scrapbooking stickers and co-ordinating patterned papers is central to the effectiveness of this layout. However, even with the most perfect combinations, a page can sometimes feel flat and dull.
Continue Reading - Beach Scrapbooking Stickers