Creating Christmas layouts is a great way to get into the holiday spirit and with Christmas only weeks away, I thought it would be a great time to share some Christmas scrapbooking ideas with you.
I usually take hundreds of photos at Christmas time so I need shortcuts that allow me to create beautiful pages fast. I know I can't scrap all of my photos, but I sure do try!
For that reason, I turn to Christmas stickers and scrapbooking sketches.
Click Here To View Our Full Range Of Christmas Stickers
This layout was created using Sandylion Christmas Pooh & Friends stickers and sketch #182 from my collection of 500 Scrapbooking Sketches.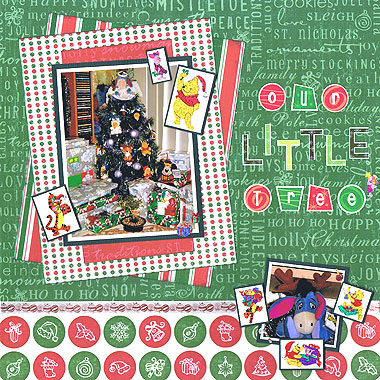 Materials Used: Bo Bunny Christmas Green Tidings paper (for the background), Bo Bunny Christmas Brights Ornaments paper, Bo Bunny Christmas Brights Stripes paper, Bo Bunny Christmas Brights Mini Dots paper, Bo Bunny Christmas Red Tidings paper, white cardstock, green Bazzill cardstock, Christmas ribbon, a green ink pad, foam tape, Creative Imaginations Christmas Alphabet stickers, American Traditional Glitter Christmas Alphabet stickers and Sandylion Christmas Pooh & Friends stickers.
To create this layout, I used my sketch as my guideline, selected my supplies and then added some of my own extra special touches. They include:
1. I chose the darkest paper as my background. While it's not always necessary, in this case I felt a dark background served me better as it ties the different elements of my page together and anchors them.
2. I used a strip of ribbon across the join between by background paper and the strip of Ornaments paper along the bottom. This enabled me to hide the ungly join and add a bit of texture to my Christmas layout.
3. I lightly inked the edges of some of my patterned papers with green ink to make the edges a little less stark and enable to different elements to blend together a little. This is one of those Christmas scrapbooking ideas that can be incorporated into practically any scrapbooking layout (and you might have noticed…I do this a lot!).
4. I layered my patterned papers in the top left corner of my page to make my photo the key focal point of my page.
5. I combined different Christmas alphabet stickers to create a truly unique title. This is another Christmas scrapbooking idea that can really be applied to any layout. By mixing and matching different colours and fonts you give your layouts a sense of sophistication and style that is uniquely yours.
6. I also matted some of my alphabet stickers to help them stand out from the background.
7. I matted most of my Winnie the Pooh Christmas stickers with white cardstock and again with green Bazzill cardstock. This helped them stand out from the background and become feature elements of the page.
8. I also adhered most of the Winnie the Pooh stickers with foam tape to add dimension to my Christmas layout.
No matter what Christmas stickers you are using, matting them and applying them with foam tape is a fabulous way to help them stand out as key elements of your page. It's especially effective when the stickers are small as they will not overwhelm your photos.
Click Here To View Our Full Range Of Christmas Stickers
I'd love to hear your thoughts and Christmas scrapbooking ideas on your layouts. Please leave a comment in the comments box below.